4 Tips to Choose the Best Test Automation Tool

If you are in the market to select a suitable test automation tool for your enterprise software development needs, expect a shocker. The global market for software test automation is expected to be worth over USD 49.9Billion by 2026. This implies that the number of automation testing tools available as choices will be exponentially high.
So how can an enterprise select the best automation tool for testing? How can they ensure that their investments can guarantee returns? We've got all those answers for you.
To that end, this article will shed light on:
What is a test automation tool?
The digital economy has forced nearly every business to create their own digital channels for engaging customers and sustaining in competitive markets. Businesses also need to onboard or develop a range of software solutions to help with their internal operational efficiency. With so many software developments and integration efforts running simultaneously, enterprises need to keep a tab on the quality of these digital solutions. It doesn't matter if the software is from a world-class vendor or built by a reputable technology service provider. If there is a defective integration approach or faulty technical architecture, the digital channel will ultimately fail in its purpose of enabling growth at the business. To prevent this, companies place a significant bet on quality assurance, or in other words, software testing, to ensure that their digital channels are defect-free and serve the intended purpose.
Manual software testing can become a considerable challenge for such a massive volume of software and digital channels. This is where the role of test automation and automation testing tools comes into the picture. By leveraging software testing tools, enterprises can automate testing activities and ensure holistic coverage for quality assurance. For example, an automation tool can be programmed to execute a test script that automatically validates the execution of a block of code or functionality in a test environment that mimics the real-world ecosystem where the software will likely be deployed later.
Why are automation testing tools important?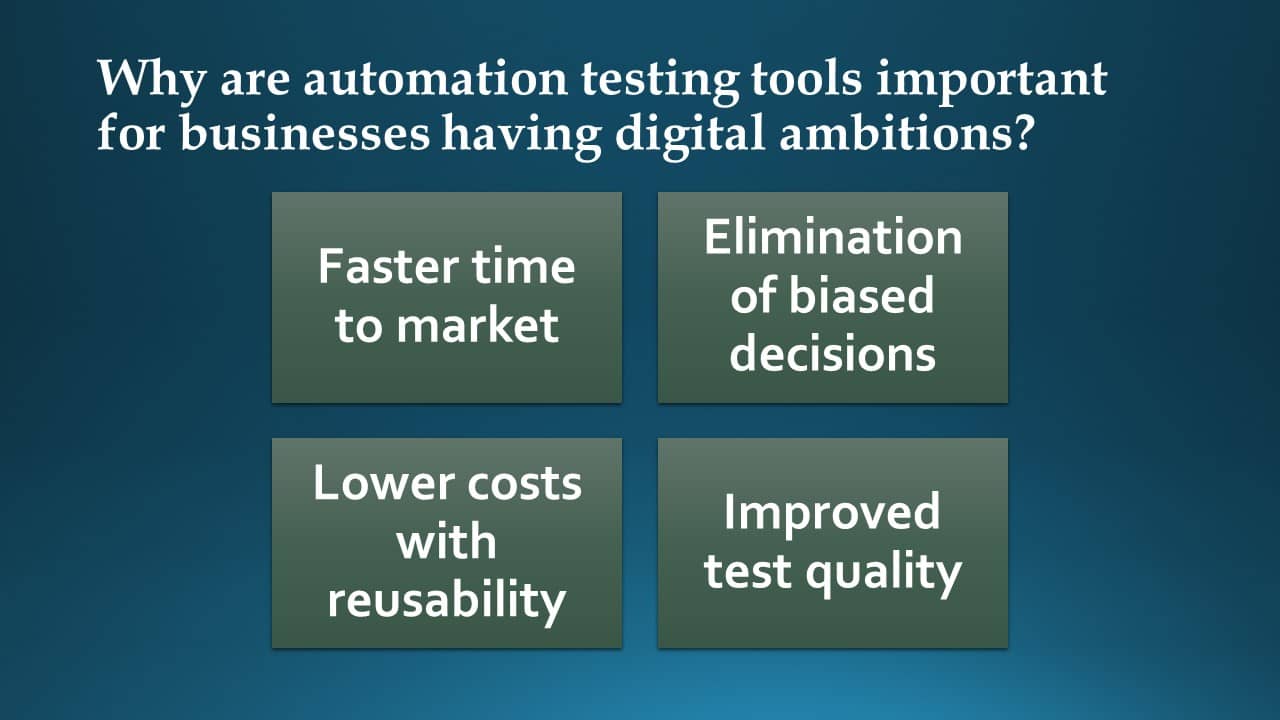 The importance of a test automation tool can be deduced from the several benefits that it brings to the table. Some of the major ones are:
Faster time to market: Finishing end-to-end testing activities quickly results in the quicker rollout of applications from the business.
Elimination of biased decisions: Test engineers' biased thinking can affect manual testing results, while automation testing eliminates this problem.
Lower costs with reusability: Test scripts and test cases prepared for testing one application or functional module can be re-used for similar future instances, thereby significantly saving costs.
Work on
BIG

ideas, without big work.

Simplify test automation with our Unified platform for Enterprise stack across Web, Mobile, API, Desktop & Backend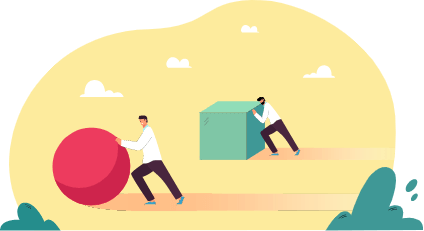 Tips for picking the right software testing tools for your business
Now that you have understood why it is vital to invest in a test automation tool, the real challenge is how to pick the right automation testing tools for its use? Unfortunately, the market has so many offerings that can easily confuse even the most experienced technology leaders in a business.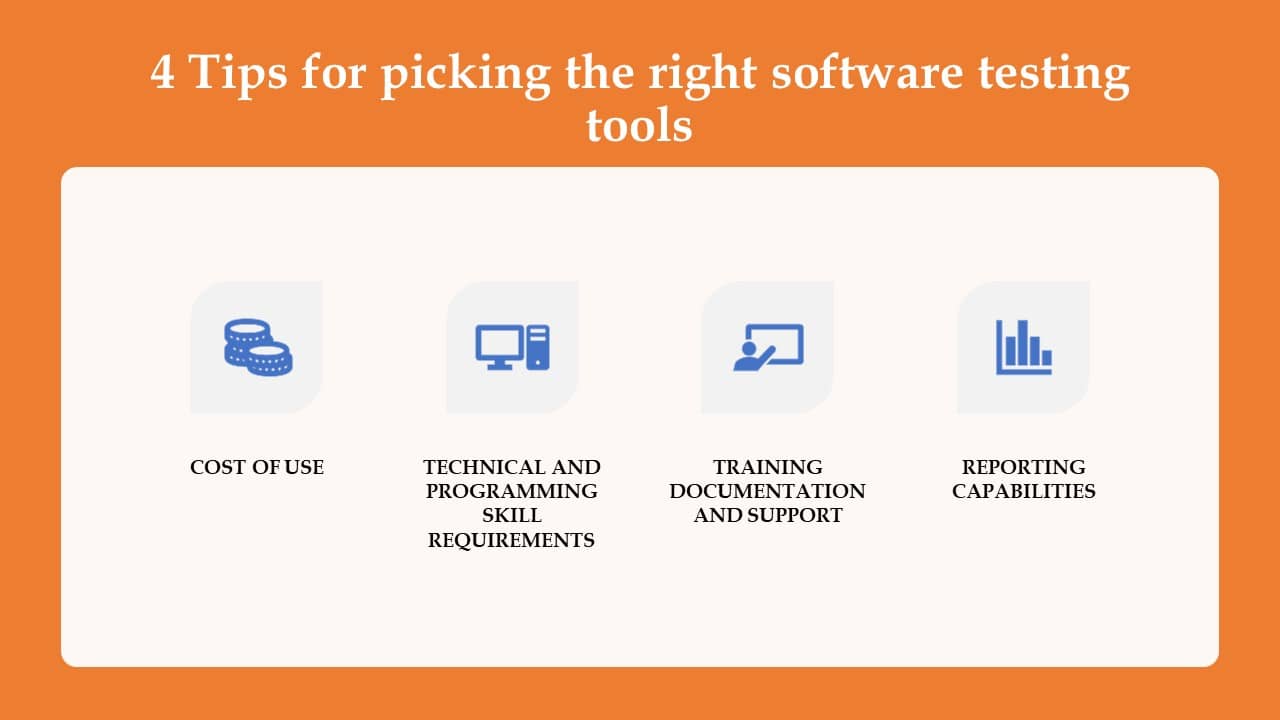 To make the selection process easier, let us look at four tips that every business can use while evaluating software testing tools for their digital ambitions:
Cost of use:
Most businesses likely have a limited budget for their IT endeavors even though leaders have a growing consensus to loosen the strings and spend on technology. Even if they favor investing, the lion's share of the budget will go into the new application development or integration efforts. Software testing can be an expensive initiative depending on business's intensity of focus on assuring quality in their digital channels. Hence, while picking a software test automation tool, it is crucial to evaluate the cost involved. It is advisable to seek SaaS-based offerings as they offer a very flexible and accommodative pricing policy that doesn't burn a critical mass of your IT budgets.
Technical and programming skill requirements:
To expedite end-to-end testing strategies, test engineers need to use automation testing tools with relative ease and simplicity. They are expected to have only basic programming knowledge to create test scripts and execute the test program to view results. So, while selecting testing tools, businesses must invest in a tool where there is the minimal requirement for programming skills and technical knowledge (think low-code automation platforms). This will allow even business users to step in and perform testing in scenarios like user acceptance testing. If the test automation platform has complex customization and scripting rules, it would require more skilled and expensive human resources to be deployed by the business to handle the automation initiative.
Training documentation and support:
When the test automation tool vendor offers a seamless knowledge transfer and training experience for all stakeholders, it becomes easier to onboard and integrate the tool into the business's digital landscape. Hence, while evaluating vendors, it is essential to look at the kind of support offered by a vendor regarding training and the availability of technical and functional documentation that will guide users when they need help.
Reporting capabilities:
Test automation tools become most effective when they produce clear and transparent reports about defects, coverage, and other specifics observed during the testing phase. These reports serve as a benchmark for establishing quality norms within the business. They are critical assets that needs evaluation while picking the right test automation tool for your business.
Leverage the most benefits from automation tools for testing
Enterprises need not just any test automation tool to drive efficiency in their testing initiatives but a holistic solution backed by a vendor with exceptional knowledge about their business domain and how to unlock value with testing.
Get in touch with us to learn more about ensuring high-quality application development initiatives in your business through test automation.
Director, Product Evangelist at ACCELQ.
Geosley is a Test Automation Evangelist and Community builder at ACCELQ. Being passionate about continuous learning, Geosley helps ACCELQ with innovative solutions to transform test automation to be simpler, more reliable, and sustainable for the real world.