Visit our Booth #61 (Near AI Pavilion) for Cutting-Edge Solutions and More!
Explore the CloudWorld Hub
Unlock the power of Oracle Cloud at the CloudWorld Hub in Las Vegas, from September 18–21, 2023. This event is specially designed for learning, networking, and a little bit of fun. Brace yourself for an extraordinary experience that will take your understanding of Oracle solutions to new heights.
Embrace the Future with ACCELQ
We are thrilled to announce that ACCELQ will be exhibiting at Oracle Cloud World. Join us to explore how our end-to-end automation and industry-tailored solutions are revolutionizing businesses across the globe. Discover how we can help you solve problems, lead the way, and shape the future. Prepare to embark on a transformative journey at Oracle CloudWorld, where you will gain the knowledge and skills needed to achieve your most ambitious technology goals.
Elevate Your Oracle Experience
Make sure to visit the ACCELQ Booth #61 (Near AI Pavilion) during the event to experience our leading continuous testing platform, meticulously designed to align with Oracle. Witness firsthand how ACCELQ can significantly accelerate and improve the quality of your Oracle releases. Plus, don't miss out on the opportunity to collect some cool swag that we have prepared exclusively for CloudWorld attendees.
Below are some snapshots of our Booth experience at Oracle Cloud World 2022. We were delighted to meet and greet visionaries from all round the world, and this year we are back with a bang with more offerings and excitement!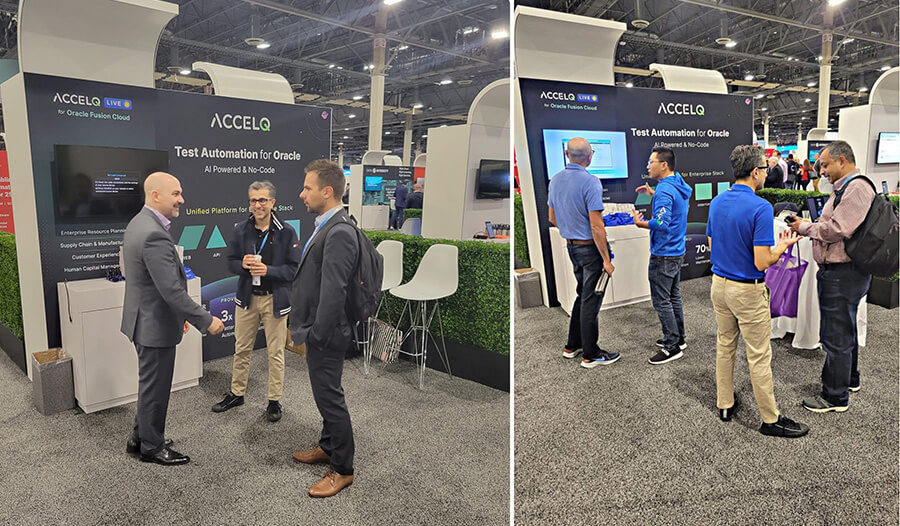 Secure Your Spot in Las Vegas
Don't let this chance slip away! Reserve your spot at Oracle Cloud World 2023 in Las Vegas today. Immerse yourself in an environment that is tailor-made for innovation, collaboration, and growth. Prepare to be inspired, connect with like-minded professionals, and take your business to new heights with the power of Oracle Cloud.
What's Next?
Get ready to dive deep into the world of Oracle Cloud at CloudWorld. Gain valuable insights, discover innovations, and connect with experts who will guide you towards transforming your business. With live demos, networking lounges, and the Oracle TV studio, you'll have endless opportunities to enhance your knowledge and grow your professional network.