EASIEST & MOST SUSTAINABLE WAY TO
Automate Web, API and Mobile Testing
Automates all the way
Automates all aspects of Quality lifecycle from Test Design all the way to Test Planning & execution
Enables manual testers & business analysts
Enables manual testers and business analysts to automate without the need for programming
Enterprise ready
CI ready, scalable and secure for your enterprise.
Early Automation
Enables in-sprint automation with industry first virtualized abstraction for functional testing
Integrates with your eco-system
Seamlessly integrates in your eco-system of Tools like Jira, TFS, Jenkins, Bamboo etc.
Design-first approach
Ensures design-first approach with inbuilt modularity; No need for custom frameworks
ACCELQ is the only continuous test automation and management platform listed on Salesforce App Exchange.
Hosted on the cloud, it is much faster and easier to setup ACCELQ compared to Provar or Selenium.
ACCELQ is a complete test management platform helping you deliver Quality Salesforce implementations.
AI Driven Automation Optimized
for Salesforce Specific Dynamic Technology
Seamless no-code automation, handling Salesforce dynamic elements & iframes
Lightning and Classic support for all Salesforce customers
Self-healing automation reduces automation maintenance by 70%
Algorithmic & automated test case generation with Salesforce data models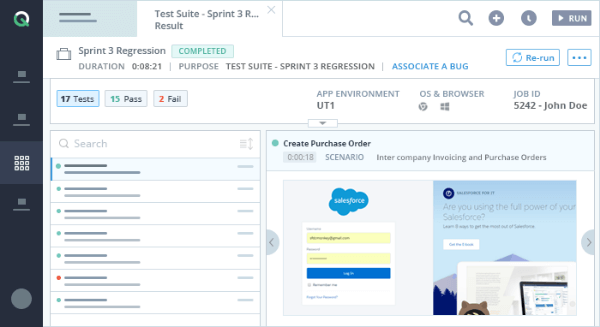 Using or considering Selenium for Salesforce testing?
Like the flexibility and openness but not the programming & constant maintenance?
ACCELQ complements Selenium, giving you all the benefits of WebDriver minus the overheads. Fully aligned with the CI/CD of your Salesforce implementations, ACCELQ brings automated test design, development, planning and tracking capabilities, all wrapped into a powerful cloud-based platform.
Enterprise App Integration for a
True End-to-end Validation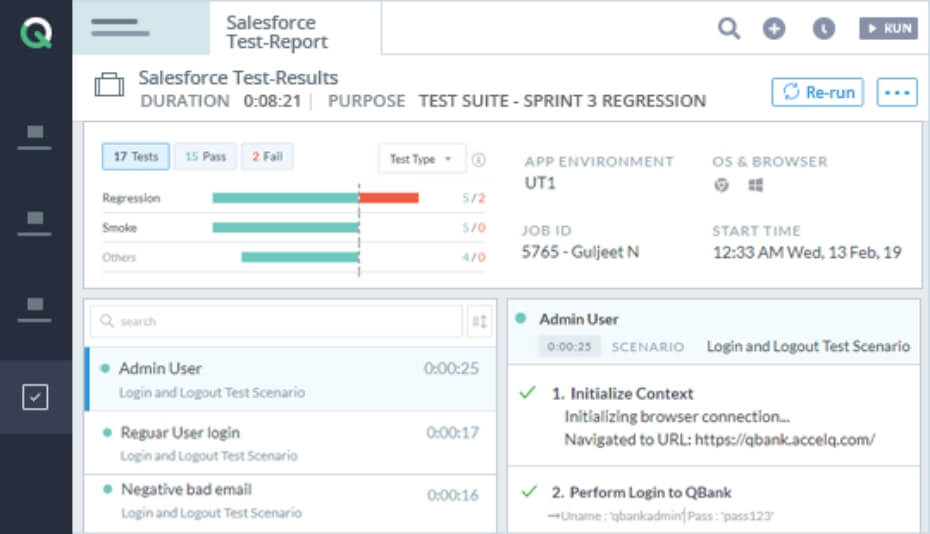 Test Salesforce UI & API's all in the same flow without any programming
Visualforce component automation for complete coverage
Automation of other ERP applications integrated with Salesforce, ensuring complete business process validation
Integrated Salesforce & custom web application test automation for end-to-end validation
Continuous Testing for Agile
Salesforce Implementations
End-to-end Validation

Integrated Salesforce and custom web application test automation for end-to-end validation

In-sprint Automation

Intelligent abstraction for Salesforce workflows, enabling in-sprint automation

Cloud Execution

Cloud based execution with cross browser and OS for complete validations
Integration with ALM tools

Integration with ALM tools for requirements and defect integrations

CI Workflow

Automated executions orchestrated by CI workflow