Also referred to as Test Automation, QA automation is improving the quality of software products. Bugs or defects always creep into finished software products despite the best coding practices. Manual testing is not adept at uncovering every product defect.
This is where QA automation helps in improving the efficiency of software testing. Once developed, one can execute automated tests many times without any human intervention. QA automation is also gaining popularity with companies looking to implement Agile and DevOps practices.
Among the hottest trends, the global market for Quality Assurance automation tools will be worth $28.8 billion by 2024.
In this blog, let us explore
What is QA Automation?
QA automation (or automated testing) is essentially the process of automating the testing of software applications and mobile apps using automation tools. Primarily, QA automation tools perform repetitive (or manual) testing tasks that were previously performed by a human tester. Thus, Quality Assurance automation frees up the software testing team to focus on complex (or advanced) test cases.
How does QA automation work? QA automation uses testing scripts that can be executed repeatedly. QA automation tools perform the tests and report the test results to the testing team through predefined actions.
Does QA automation replace testing engineers? No, the testing team still needs to write the QA test scripts before the deployment on the software code. While the testing part is automated, developing test scripts still need an understanding of the programming language.
What are the benefits of QA automation? Let's explore that in the next section.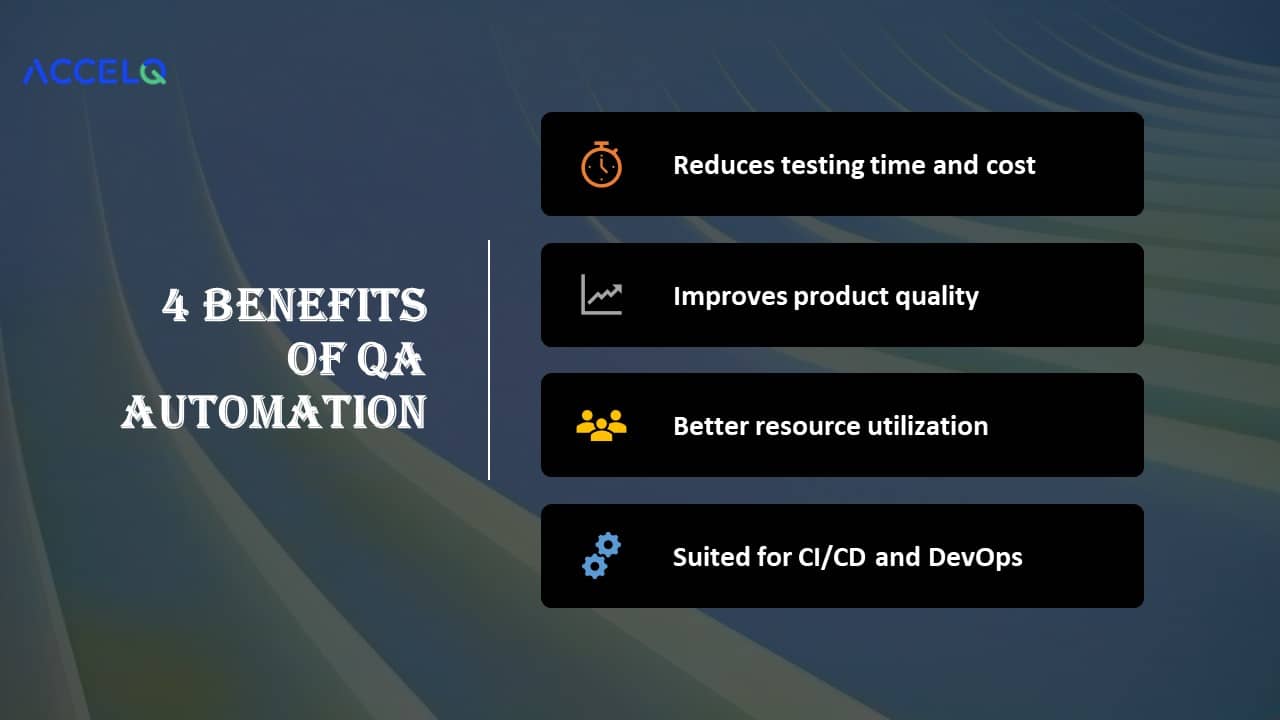 Let us first look at some of the business benefits of implementing QA automation:
Reduces testing time and cost
Constant application releases require repetitive software testing to test every product feature and remove software bugs. Manual testing slows down the entire process and can be a cause of delay to release updates to your customers. As a result, automation testing comes into play. This is where QA automation is beneficial. The same test scripts can be executed many times on different hardware and software configurations with automated testing. Similarly, automated scripts can be run "all day and night" to save time. As compared to a human tester, automation tests are faster. Thus, it can reduce both testing time and costs.
Improves product quality
With QA automation, companies can increase the overall coverage of their testing process. QA teams can now run thousands of automated test cases at the same time and on multiple platforms and devices. On the other hand, "human" or manual testing has limited scope and cannot test products "deeply."
Automation testing can explore applications in-depth and check the memory data, data tables, and internal file structure. This can improve the quality and performance of the final software product. 
Similarly, automated regression testing can be used to test every application feature. This can be quite challenging for manual testing.
Better resource utilization
With automated testing, QA team members can apply their knowledge and skills in advanced product testing. Automation testing helps execute Functional and regression test cases without any human intervention. QA test automation also reduces the dependence on the presence of a large QA team. This can reduce the time and cost of regularly hiring and training software testers.
With automated testing, experienced QA resources can be utilized to create better test cases, improving product quality. This means they are spending less time on regular and repetitive test procedures.
Suited for CI/CD and DevOps
Manual testing is difficult to manage as software code gets more complex or when there is an increase in test cases. Automated testing helps overcome this problem
With QA test automation, development companies find it much easier to switch to Continuous Improvement & Delivery (or CI/CD mode). Automation facilitates continuous testing that is needed for DevOps.
What are the challenges of QA automation? Let's explore that in the next section.
4 Challenges of QA Automation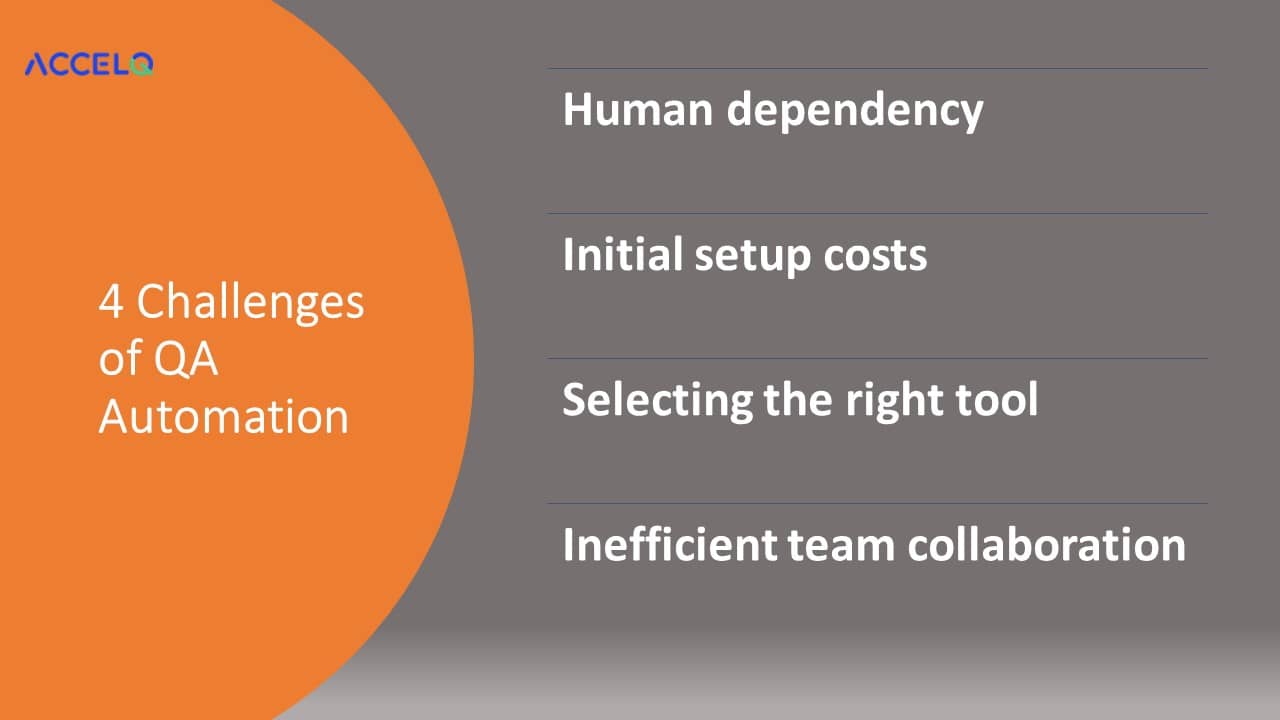 QA automation has its share of challenges that need to be overcome. Here are four major challenges:
Human dependency
Despite all the "talk" about complete automation, test automation tools are not "smart" enough to replace human testers. Automated testing can effectively make the tester's job easier but cannot replace a high-quality tester.
Further, automated QA testing also requires human resources with advanced programming skills and knowledge of testing tools. Additionally, software developers cannot replace a skilled software tester for writing automation test scripts.
Initial setup costs
Despite all its benefits, product companies do find it challenging to design and configure an automated test framework. Test automation frameworks are difficult to maintain and have high setup costs in the initial phase.
Additionally, companies require skilled testing professionals with knowledge of testing tools and programming languages.
Selecting the right tool
With so many automated testing tools available in the market, it is difficult to choose the right tool. Every automation tool is not adaptable to work with your applications or software architecture.
Inefficient team collaboration
For the best results, software testers need to collaborate and communicate effectively with developers, business analysts, and project managers. Ineffective team collaboration can delay both development and testing efforts.
Why ACCELQ for QA Automation?
Forrester Wave has named ACCELQ as the leader in the "Continuous Test Automation Suites" category in 2020. It helps organizations overcome all the key challenges in their QA automation initiatives. 
With its codeless approach to automated testing, ACCELQ has simplified QA automation. This platform allows software testers to develop test logic without bothering with the underlying programming syntax.
The ACCELQ test automation platform has enabled product companies to achieve 3x higher productivity and over 70% cost savings with its design-first approach.
If you are facing major challenges in your software testing process, it's time to move to ACCELQ's test automation platform.
Our team can walk you through the capabilities of our automation platform and how they can help your company. Request for a free product demo today!
This Might Also Interests You...