Test case automation has been around for 15+ years. It was an exciting time when at Mercury, we first introduced Winrunner. It was a breakthrough both from technology and process point of view and could bring considerable acceleration in the QA cycle. And of course, it helped us at Mercury lead this space for many-many years to come.
Unfortunately, there hasn't been much innovation in this space ever since. Newer tools in test automation made minor incremental upgrades from the record and play technology. And the outcome is clear; major studies show organizations struggling with the % of reliable automated testing they can achieve. Despite being a programmer's tool, no wonder Selenium is gaining popularity given that other tools have not been able to bring the needed flexibility or handle technical complexities. But Selenium also comes with its own baggage of custom frameworks, elevated levels of code maintenance, and specialized programming skills.
Given the demands of today's continuous delivery models, it really needed a true ground-up innovation to bring test automation in sync with the rest of the software delivery cycle.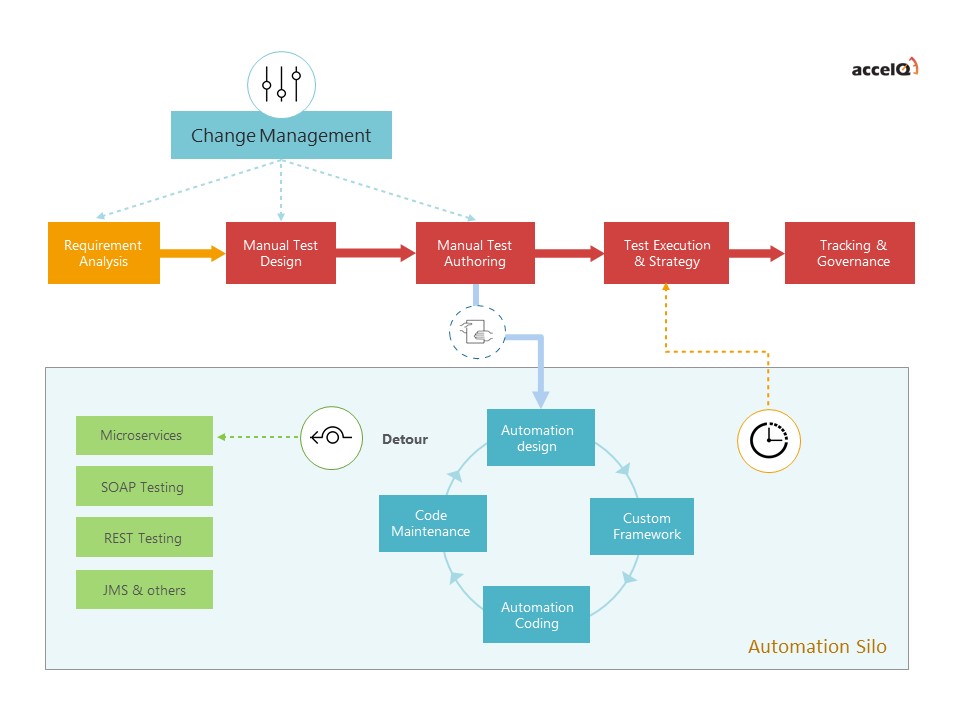 And when I say innovation in test automation, we got to break the silos; Automation cannot afford to live on an island anymore. Automation testing has to be integrated with its manual counterpart. It has to be all-inclusive to handle today's complex hybrid applications comprising of API, UI, services all in the same flow. When time is of the essence, we can't have any handoffs, bottlenecks, and silo functions. Test automation itself has to be technically a lot more robust than the record & play, while still focusing on the business process and SME driven validation.
accelQ approaches automation with a lifecycle approach to integrate these islands into one tool, one optimized process. The cognitive engine drives all aspects of test automation from element capture to natural language automation "code" to self-healing heuristics. The autonomic core is able to drive intelligent path analysis to automation scenario design and intelligently drive automated test generation. We need to break out of the mindset that automation means the overhead of frameworks before it can give us the ROI. It's time the best practices and frameworks are embedded into the automation tool you use, and it's intelligent to help you accelerate. Learn more about AccelQ's Codeless natural language automation and self-healing automation.