Workday is fast becoming one of the most widely used HCM software globally. Therefore, Workday testing is an evolving area of focus for every major business today.
With over 8.4% global market share, it is without a doubt the world's number 1 HCM software vendor. Since 2017, Workday has opened its core platform to developers. It now supports custom integrations and extensionsmo, creating a bigger scope for Workday testing.
Workday is one of the world's leading cloud-based HCM and internal finance management platforms. It has even diversified into a student information system offering. Several leading educational institutions worldwide leverage this offering to optimize their operations.
The Workday platform is a SaaS solution comprising multiple modules. These modules support a wide range of functionalities, from recruitment and onboarding to payroll and financial accounting. Since they deal with managing affairs of the most critical assets of an organization, a Workday implementation is a critical digital initiative for any business.
Hence, organizations put a huge focus on getting the implementation right and ensuring that they get the maximum ROI from the investments. This is where Workday testing comes into the picture.
The bigger picture to consider here is to achieve digital assurance for cloud apps. Workday testing focuses on assuring performance, reliability, and functional capability realization of the Workday product when implemented at any organization.
Why is Workday testing important?
Like any digital initiative, Workday implementation comes with its set of challenges and requires strategic directions and guidance.
When implemented, Workday becomes a major workforce enablement tool within the organization. It has a wide-ranging influence amongst nearly all major departments. It is connected to all employees to help in managing their daily routines such as leaves, schedules to project management, tracking of work, and more.
Hence, Workday testing becomes a major focus area. As a core digital platform, Workday needs to exhibit resilience and reliability continuously to help facilitate a seamless operational routine within the enterprise. It sets the digital backbone for the employee experience a business aspires to create to recruit, onboard, train, and nurture the best talent for their growth ambitions.
Ensuring that every facet of the Workday platform works well and realizes its objective is critical for overall organizational efficiency. It ultimately contributes to better ROI on employee initiatives. Therefore, Workday testing is essential for businesses that consider employees as their biggest asset and plan engaging experiences to build better loyalty.
How to perform Workday testing – Best Practices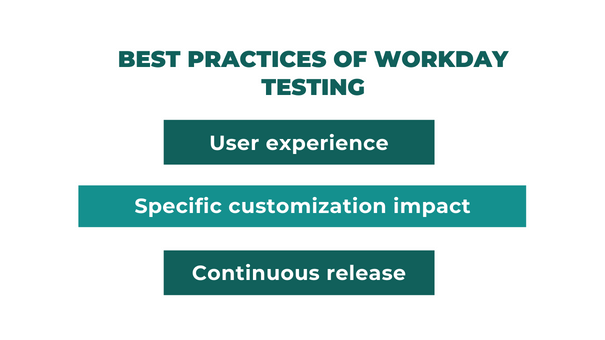 Now that you have a clear idea about the importance of Workday testing, it is time to learn about the best way to perform Workday testing.
Being a SaaS-based offering, the Workday platform offers a different operational model when compared with traditional on-premises solutions. To ensure that your Workday testing efforts bear fruit and deliver the best ROI, it is important to assure the coverage of 3 fundamental test strategies –
User experience
Workday is a critical business tool. Organizations leverage it to ensure a smooth working environment for their employees irrespective of whether they work at the office or remotely.
From process navigation to design elements, the user experience of the implemented Workday platform is a major focus area. The platform needs to empower the employees to access their desired options in the quickest time with minimal navigation. Hence the design element of the Workday implementation needs attention. Also, depending on the type of devices that employees leverage for accessing Workday, there needs to be a provisioning of computing or localized cloud configurations that help manage the dynamic needs of employees working in different geographies. All these items need to be factored in while performing Workday testing.
Specific customization impact
As mentioned earlier, Workday allows for a large and diverse range of custom app development and extensions within the platform. Such an accommodative nature makes it dearer for enterprises. However, it creates a larger set of dependencies for test engineers to prioritize.
When a new feature or capability is integrated into a Workday deployment, every specific customization must be validated for impact. This will help keep the platform at its most optimal condition with a better quality assurance guarantee.
Continuous release
Workday has two major releases every year. In addition, there may be periodic updates or functionality improvements that will be pushed to the market.
The platform follows a continuous release cycle for deployment. From a Workday testing perspective, there is a need to accommodate the continuous release capabilities of the platform and check for impact across all dependent modules or specific customizations when new releases are done. All business-critical workflows and processes need to be assured of seamless interoperability between different release versions of the product.
Ready to Get Started?
Let our team experts walk you through how ACCELQ can assist you in achieving a true continuous testing automation
Making the most out of your Workday testing investment
Workday testing is no easy task. But on the other hand, it is imperative that businesses that leverage Workday for their HCM and financial management needs pay more attention to ensuring better quality for the implementation.
Workday deals with critical workflows and processes that help employees ranging from entry-level executives to decision-making C-Suite leadership manage their daily routine. Hence, any disruption or errors in the product implementation can create uncertainty and chaos for the organization.
Manually testing your Workday platform deployment is not a healthy choice. It can easily miss out on the finer and more granular dependencies that different Workday users share. It is easy to solve this challenge by bringing in test automation.
Test automation can help bring large digital initiatives like a Workday implementation under the control of the enterprises regarding quality assurance. The only secret to success in this regard is to have the right tools and guidance for automating Workday testing initiatives within your organization.
This is where ACCELQ can make a difference. Schedule a demo today for our end-to-end test automation platform that can help realize the best ROI for your Workday investments by enforcing quality.
Related Posts