A Comprehensive Resource On Coupa Test Automation

Posted On: 10 February 2023
Supply chain organizations often struggle to monitor their operations in real-time, which invariably translates into unmanageable costs. Many have implemented a robust set of processes to improve supply chain efficiency. However, they largely depend on different tools and systems. Such an arrangement system brings down their overall throughput.
Supply chain success is far beyond just bringing products to customers as soon as possible. Organizations need a modern cloud-based business management platform like Coupa that can provide insights into the day-to-day processes.
Although Coupa offers a broad range of capabilities and benefits, it also needs to be tested thoroughly to meet the required quality and security standards.
The Coupa platform provides real-time insight into purchases, invoices, and expenses for supply chain organizations that constantly strive to optimize their supply chains. Offering powerful capabilities across the entire realm of expense management, the solution enables continuous visibility into operations via intuitive dashboards, alerts, and notifications.
Coupa is a single, cloud-based spend management platform. Coupa aids organizations in managing all transactions across procurement, payments, and the supply chain in general. Using Coupa, organizations can improve visibility into spending and enhance resilience while turning every challenge into a competitive advantage.
Work on
BIG

ideas, without big work.

Simplify test automation with our Unified platform for Enterprise stack across Web, Mobile, API, Desktop & Backend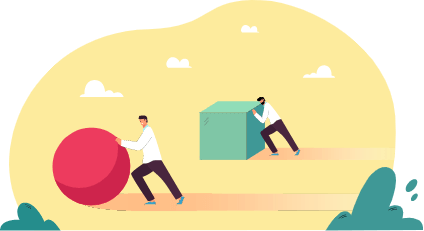 What are the benefits of Coupa?
Any supply chain organization looking to get real-time insight into its daily operations can benefit from adopting Coupa.
Coupa's executive dashboards, expense management features, and real-time benchmarking make it the perfect choice for businesses.
By bringing in the element of expense management and administration – all into a single user interface – Coupa helps overcome challenges associated with paper-based reporting.
It also allows organizations to combine data from different systems and locations. Since data is no longer fragmented across multiple files or formats, the platform provides a single source of truth.
Automated reports accelerate time-to-decisions and also ensure their accuracy and timeliness.
Coupa's seamless integration with ERP or accounting systems and intuitive UI/UX make running the supply chain organization a breeze. Such integration provides end-to-end visibility into budgets and expenses. Thereby improving overall purchasing and expense processes within the organization, and across the entire supply chain ecosystem.
Let's look at the top benefits Coupa provides: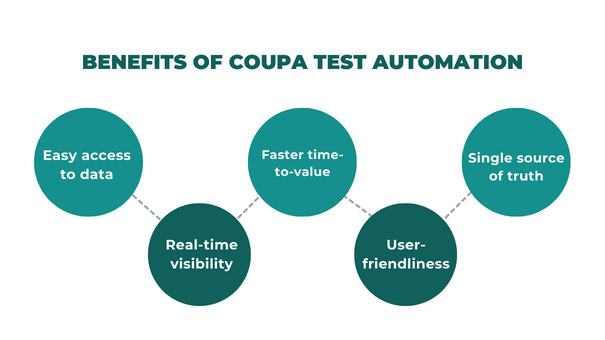 Easy access to data:
One of the most significant benefits Coupa brings to the table is enabling easy and real-time access to data. Since supply chain organizations need to be able to make decisions in real-time, quick access makes sure they can meet their goals and targets. It also enables them to detect errors and frauds across business spending easily.
Real-time visibility:
Coupa's pre-defined reports and dashboard provide an updated view of all KPIs, enabling supply chain organizations to understand their spending easily. Such visibility makes it easy to have the latest information on POs and invoices while enriching the user experience.
Faster time-to-value:
Since Coupa relies on cloud technology, it is straightforward and secure to deploy, leading to faster time-to-value. The platform can be quickly implemented and integrated with other supply chain systems. Hence it enables faster time to market (and value).
User-friendliness:
Another unique capability of Coupa is its user-friendliness. The unified interface helps overcome the need to rely on multiple disparate systems, while also bringing data from across the supply chain into one single location. Coupa's UI reduces operational complexity and aids in bringing all stakeholders on board quickly and efficiently.
Single source of truth:
Coupa's intelligent capabilities mean organizations no longer rely on gut and instinct. Data is collected, analyzed, and represented in easy-to-understand formats. Key decision-makers can ensure their decisions they take are based on hard data, making the entire process more transparent and trustworthy. This eventually translates into more substantial relationships with suppliers and partners.
Challenges before diving into Coupa Test Automation
System testing and validation are critical components of successful Coupa implementation. Yet the process of testing comes with a range of setbacks.
Let's look at 3 challenges that test engineers often come face-to-face during the Coupa test automation process: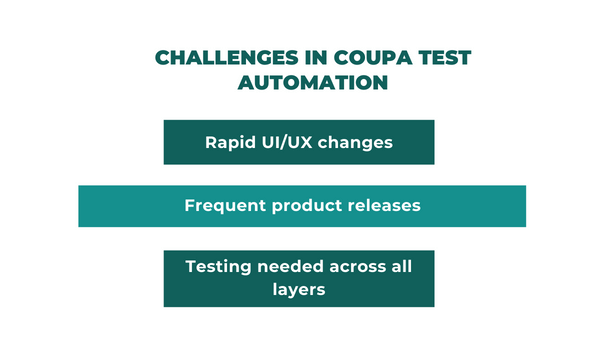 Rapid UI/UX changes:
The Coupa platform constantly evolves to keep up with the needs and expectations of users. Several changes are made to the user interface. Keeping up with these rapid UI/UX changes requires testing teams to catch up with the pace of change, but this can get extremely difficult.
Frequent product releases:
In addition to changes to the UI/UX, Coupa's development team also brings in new and improved releases into the market. The testing team has to revamp their testing tools and procedures to test the latest updates with every new feature or version.
Testing needed across all layers:
Testing a modern platform like Coupa involves testing across all layers, including web, API, and database. Test engineers need to possess testing skills across all these layers. They also need to upgrade their skills to match current and evolving requirements continuously.
6 Best Practices for Coupa Test Automation
To overcome testing challenges that come with Coupa test automation, plan all test activities appropriately.
Test engineers can break up the testing process into three phases to carry out multiple rounds of testing. It allows them to promptly uncover possible issues and address them without impacting the following milestones and project go-live deadlines. A well-planned, well-engineered test automation process that covers unit, systems, and UAT testing can ensure complete application testing for functionality and integrations.
Create business functionality-specific test cases to ensure every platform feature is rigorously tested for existing and upcoming issues. Build different test cases across inventory, sourcing, expenses, payments, etc., for the best and most efficient results.
Make sure to test every line of new code before it goes live. Testing the code developed during each sprint cycle via a series of test scripts verifies the level of quality. It also helps route the edits or changes back to the development team, and they can then make the necessary modifications to the code.
Identify the number (and skill set) of resources needed to ensure that you have what it takes to provide efficient testing. Since the platform has to be tested across different layers, for different functionalities, and different users, it is crucial to know your team and expertise.
Creating and reviewing integration test cases is another best practice test engineers need to follow to ensure Coupa works well – not just as a siloed platform – but also in combination with other ERP and accounting systems in the business.
At the same time, it is also vital that the teams do the QE testing throughout the development process and sprint cycles. Continuous testing can ensure that all the code developed for a new product or version release is thoroughly tested before the features and enhancements are deployed in Coupa's production system and released into the market.
The pace of digital disruption is at an all-time high. Yet, the current state of economic volatility and unforeseen events like the pandemic make it difficult for organizations to balance supply chain speed and cost.
If operational efficiency is part of your long-term strategy, embracing a platform such as Coupa can lead to streamlined operations and optimized costs. But to overcome issues related to suppliers, costs, and data accuracy, you need to up your Coupa test automation game, so you can spend smarter while also maximizing the value of every dollar paid – thus directly impacting the bottom line.
Understanding challenges that can come in the way of successful test automation and embracing certain best practices helps in improving supply chain efficiency. It also allows you to focus on your data-driven initiatives and overcome data accuracy and cost management issues.
Nidhi specializes in technology-based content and strives to create a unique, customized, and compelling piece with a flavor of SEO. A writer with a love for words and a storyteller at heart.