Getting More From Codeless Test Automation with Strategic Test Management

In today's world, codeless test automation is revolutionizing the testing landscape by eliminating the need for coding skills. This empowers testers and non-testers alike to easily create and execute tests, saving time and effort. Additionally, codeless automation allows for seamless collaboration between different teams, promoting a more efficient and streamlined testing process.
Yet, leveraging its full potential can be a daunting task. Having a proper strategic test approach will enhance the testing effectiveness. And even can make the entire process align with the development cycle.
Join us as we explore the potential possibilities with strategic test management for codeless test automation.
To that end, this blog sheds light on the following:
Why Do We Need Codeless Test Automation?
Swift technological advancement necessitates equally prompt and thorough testing procedures. Codeless test automation eliminated the need for coding skills enabling the non-tech teams to personnel validate the software features.
Even with the benefits of speed and simplicity offered, it can lead to a complex maze in the realm of test cases. Presence of a solid test management strategy will reveal visibility to test status, coverage, and overall quality.
Prevents piling up of chaotic and unstructured test cases.
Guaranteed visibility into the progress and scope of the next process step consistently.
Enables a unified quality perspective across the organization.
In simple words, strategic test management is the key to unlocking the doors for codeless test automation to reach its full potential. It gives a structural approach, preventing any confusion, which can maximize the effectiveness of the testing endeavors. This will ensure the efficiency of a comprehensive testing process.
Importance of Strategic Test Management
Codeless test automation is leveling the testing field by making it more accessible. It simplifies the process of creating and executing the test cases with no coding knowledge. This enhanced accessibility eliminates the load of test maintenance. For maximum usage of these benefits, robust strategic test management for codeless test automation is necessary.
A strategic test management strategy for codeless test automation manages the software testing activities from start to end and covers the following aspects: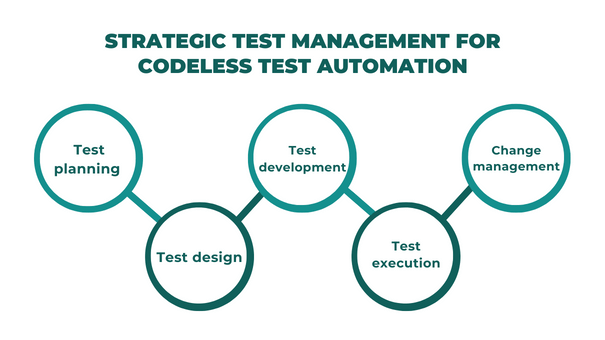 Test Planning: Well Begun Is Half Done
The adage "Failing to plan is planning to fail" rings particularly true in the world of test automation. Strategic test management kick-starts the process with a detailed test plan that outlines:
Identifying testing techniques and features that require testing.
Establishing pass and fail criteria for test cases.
Detailing deliverables and testing schedules.
Defining the scope and objectives of testing.
Outlining processes, documentation, team reporting structure, and client communication strategy.
A clear, comprehensive plan not only sets the stage for a successful testing cycle but also maximizes the benefits of codeless test automation.
Your business guide to codeless test automation
Ready to execute continuous test automation without writing a single code?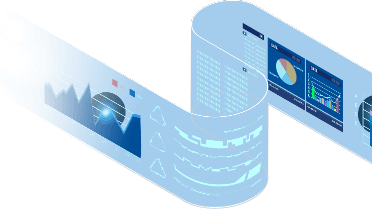 Test Design: Setting the Stage for Success
The second pillar of strategic test management is Test Design. Unlike traditional testing, the focus here is not just on designing the test but also on determining:
Data modeling to accelerate the testing pace and improve outcomes.
Identifying ideal candidates for automation.
Adopting a business process-driven, predictive scenario-based approach to test designs.
Test Development: Maximizing Codeless Capabilities
In the dynamic sphere of test management, the development of the test plan is a crucial stage that commands attention. The innovation of codeless test automation facilitates the creation of tests, bypassing the complexities of coding, and underlines the necessity of an effective test management strategy.
When planning your test management strategy, bear in mind:
Tool Selection
Use a cutting-edge codeless test automation tool. These tools allow users to construct complex test logic in plain English via an intuitive browser-based logic editor and position business processes as the focal point of automation.
Comprehensive Capabilities
Opt for a solution that offers wide-ranging capabilities. The ideal tool should deliver comprehensive automation without the demand for convoluted frameworks or programming syntax.
Accessible Test Assets
Ensure your test management strategy champions the use of natural language in test logic and makes test assets accessible to all team members, eliminating any technical barriers.
AI-Powered Platforms
Consider codeless, AI-driven test automation platforms. They offer self-healing capabilities that ensure dependable test execution, despite unexpected changes to the application UI or environment.
Incorporate In-sprint Automation
In-sprint automation concept permits the development of complete automation test assets even while the application is under development. If the application UI is pre-built, it can be promptly synchronized with the application.
Test Execution: Maximizing Efficiency
A robust execution plan is a key part of strategic test management, especially when dealing with the sheer volume of test cases generated by codeless test automation. It entails:
Delivering a cloud-based lab environment for comprehensive testing.
Allowing grid execution to run multiple test cases simultaneously.
Providing built-in support for continuous integration (CI) and cloud executions.
Change Management: Streamlining Process
Finally, defining how to implement changes from testing outcomes is crucial for test management.
Employing self-healing capabilities to simplify the change process.
Avoiding data duplication by preventing the siloing of requirements, tests, or defects.
Ensuring all stakeholders share a unified view of progress./li>
A strategic approach to test management for codeless test automation fosters collaboration and faster, high-quality software delivery. It also promotes test reusability and enables analysis of results, enhancing the overall reliability of testing.
Remember, it's not about finding bugs—it's about designing a test process that integrates seamlessly with your development cycle. So, are you ready to experience true continuous testing automation? Let our ACCELQ experts show you how.
Content Writer at ACCELQ
Expertly navigating technical and UX writing, she crafts captivating content that hits the mark every time. With a keen SEO understanding, her work consistently resonates with readers while securing prime online visibility. When the day's work ends, you'll find her immersed in literary escapades in her quaint book house.
Discover More