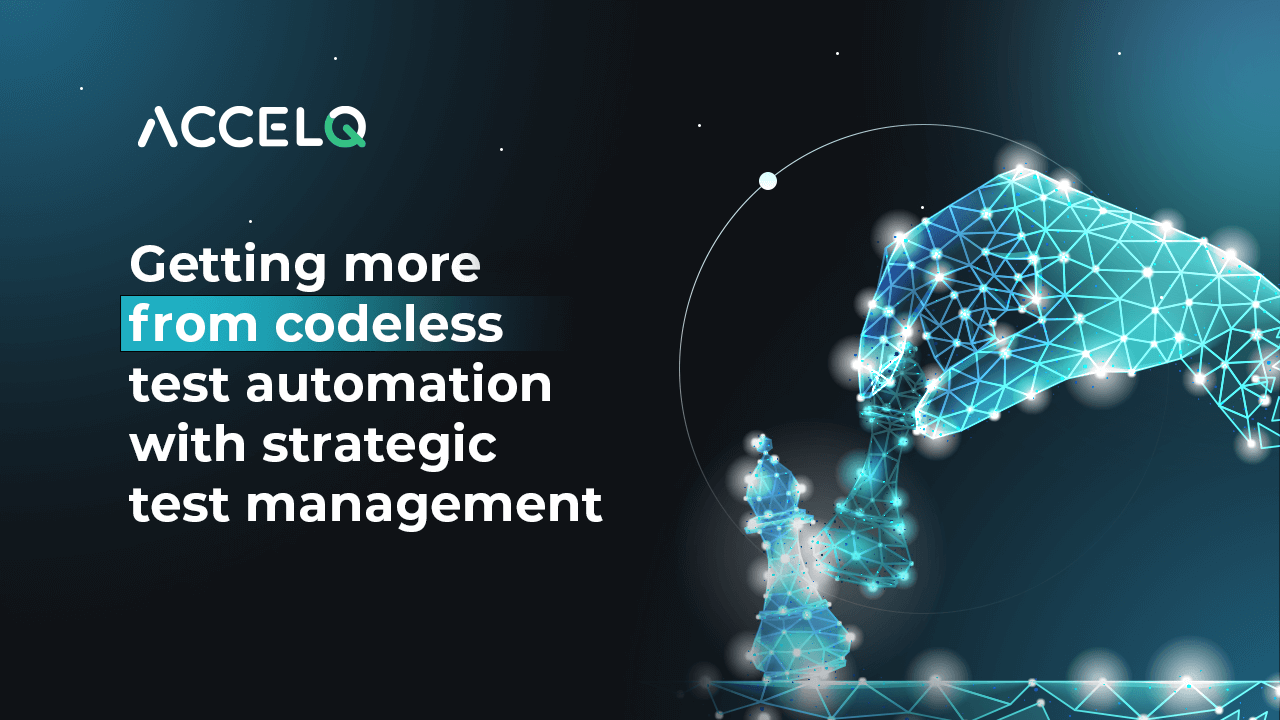 Posted On: 23 October 2022
Codeless test automation has taken care of the challenge of creating and maintaining robust test automation scripts. However, codeless test automation must be complemented with an equally robust test management strategy to develop products for today's competitive marketplace.
To that end, this blog sheds light on the following:
Why Do We Need Codeless Test Automation?
Codeless test automation has emerged as a response to the need to test fast, often, comprehensively, and continuously. Traditional test automation needs programming expertise to create and maintain automation scripts. However, codeless test automation democratizes the entire testing process and allows manual testers and business users to easily test features and functionalities.
While the powerful velocity that codeless test automation brings to the table is a great advantage, it demands robust test management to avoid creating a spaghetti bowl of tangled test cases and, consequently, poor clarity into test status, coverage, and quality.
Clear and strategic test management becomes critical for codeless test automation to deliver its benefits. With strategic test management, the testing teams, stakeholders, and the enterprise get a single, centralized view of quality while ensuring that testing is as comprehensive as efficient.
What Is Strategic Test Management for Codeless Test Automation?
Codeless test automation extends automation efforts and allows testers and non-testers to test with existing assets. Codeless automated test cases can be shared and reused easily. They also reduce the burden of test maintenance for testing and QA teams. For this reason, they need improved test management capabilities.
Notably, test management is more than finding bugs or code breaks. It has to be a strategic initiative that plans and organizes the tests for clear traceability. In essence, a strategic test management strategy ensures that the testing shifts left and becomes a part of the development process itself. Since continuous testing is now becoming the default mode of software development, strategic test management becomes even more essential for development and testing success.
An effective test management strategy fast-tracks testing flawlessly and contributes towards timely product development completion. Testing should begin as early as possible in the software development lifecycle, and tests must be iterative as this generates important testing assets and reduces problems by focusing on bugs or any unwelcome delays early in the cycle.
A strategic test management strategy for codeless test automation manages the software testing activities from start to end and covers the following aspects: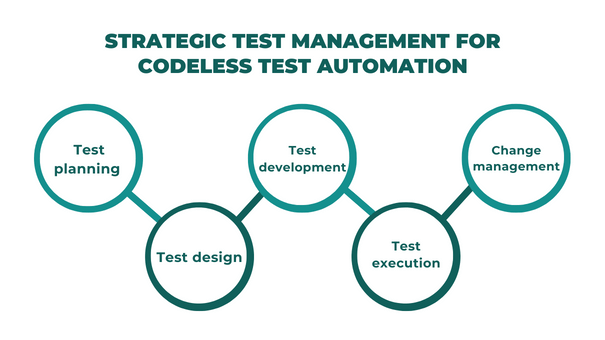 Test Planning Phase
Since well begun is half done, test planning becomes a crucial starting point for test management success. This phase involves clear and comprehensive planning of the test lifecycle. Since codeless test automation makes it easier to create test cases, the planning phase becomes all the more essential.
This phase details the testing techniques and identifies the features/functionalities that need testing, criteria for passing and failing test cases, deliverables, test schedule, etc.
The test planning phase also must contain the scope and objectives of testing, the processes, and documentation, the team reporting structure, and the communication strategy for clients.
Given that the teams can test more, the test automation platform in use should provide clear details regarding the testing project, including the project name, project type, creation date, number of users, description, branching information, etc. It should also allow streamlining of multiple use cases and provide clear information on assigned roles.
Test Design
A clear test management strategy also details a clear test design. Conventional test automation relies on programming knowledge and tester capabilities for the right test design. However, as the testing pace needs acceleration and, as such, even greater surety, test design has to employ data modeling for great testing outcomes in codeless automation.
The right test design helps identify the low-hanging fruits and the ideal candidates for automation. Test design has to be observed from the Change Management lens to ensure quality and easy test management. Business process-driven, predictive scenario-based test designs are essential for the success of codeless test automation initiatives.
Test Development
The test development plan also falls under the purview of test management. One of the greatest advantages that codeless test automation brings to the table is the ability to create tests minus the programming. As such, it becomes crucial that the test management strategy accounts for the capabilities of the test automation platform being employed.
A future-proof codeless test automation tool allows users to write complex test logic in English abstraction with a browser-based logic editor. Since it puts the business process at the center of automation, they become the driver of the test design scenarios. The solution in use must deliver comprehensive capabilities and deliver complete automation without the work of frameworks or programming syntax.
The test management strategy, along with ensuring that the test logic is in a natural language, also must ascertain that all test assets are accessible to the entire team without any technical barriers.
Codeless, AI-powered test automation platforms have self-healing capabilities and ensure reliable test execution in case of unforeseen changes to the application UI or environment. The test management strategy must account for in-sprint automation in the test development phase.
In-sprint automation is an abstraction concept that allows the development of full-blown automation test assets even when the application-under-test is under development. For example, in this case, if the app UI is ready, then it can easily be reconciled with the application.
Ready to Get Started?
Let our team experts walk you through how ACCELQ can assist you in achieving a true continuous testing automation
Test Execution
When the scale and volume of test automation increase with codeless test automation tools, creating a robust test execution plan assumes strategic importance.
Since test management aims to objectively measure quality and track progress, it has to ensure that it delivers a cloud-based lab environment for testing across all parameters before production. The platform should also allow for grid execution and run test cases simultaneously, along with having in-built support for CI and Cloud executions.
Change Management
Defining how to implement change from testing outcomes also falls within the purview of test management. Depicting this becomes important since testing becomes heavily democratized with codeless test automation. As a result, the test management platform must ensure that it employs self-healing to simplify this process.
It must also ensure that there is no duplication of data. This duplication occurs when requirements, tests, or defects are managed in a silo. The change management capabilities ensure all stakeholders have one view of the progress.
Since all testing assets can be viewed when needed, test management makes sure that the dev and testing teams are always on the same page. This reduces the information silos without compromising the quality of information.
A test management platform for codeless test automation makes sure that all the required information that contributes to the success of a test automation initiative works seamlessly. With this, teams collaborate easily and can deliver high-quality software faster.
Strategic test management also helps drive test reusability, further contributing to testing agility and speed. The right platform allows metadata-based tagging for various entities to support downstream filtering and analysis requirements. Configuring test runs to enable an analysis of results also becomes possible with test management. These efforts enhance the test management process and make testing more reliable.
Related Posts