Aiming for 100% web automation of web applications or websites is a recipe for disaster. It is critical to identify the tests that are feasible for webpage automation before creating the test automation strategy.
Those tests that are repeatable, demand complex calculations, and fast validation are great candidates for automated testing. Some examples are regression testing, smoke testing, performance testing, and functional testing.
That apart, automation testing is also great for tests that need quick analysis or tests that need to validate functionalities that must be tested repeatedly with numerous data sets.
Tests that are time-intensive, monotonous, and need complex processing typically require repetitive testing. Running an automation feasibility analysis is also a good way to identify the candidates best suited for automation.
How to Develop the Right Test Automation Strategy?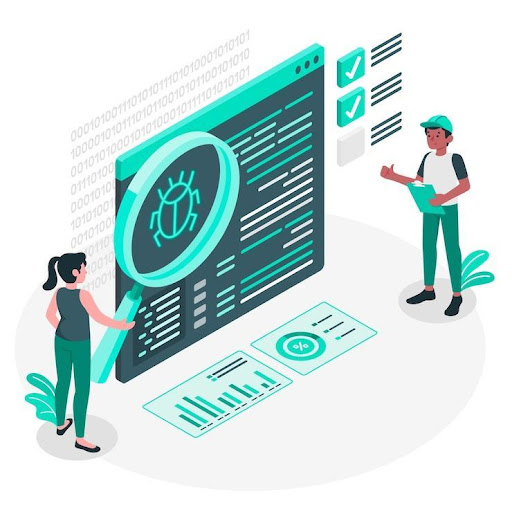 The next crucial step is to create a comprehensive test automation strategy. The test automation strategy defines the scope and goals of automation, establishes the testing approach, and identifies the tools for comprehensive testing coverage and speed.
Defining the scope and goals of web automation is crucial for comprehensive testing and good outcomes. Once the team has defined what to test, they need to plan and establish the test approach and identify the sequence and frequency of the tests. Utilizing the test automation pyramid streamlines this and helps establish a good feedback loop that makes sure that code changes do not disrupt existing features.
The test automation strategy has also to ensure that the testing practices are based on current QA approaches and make the testing process simple, comprehensive, and fast.
How to Determine the Right Mix of Testing Tools
There is a huge dependency on automated testing tools for web applications. Hence, it becomes crucial to evaluate the capabilities of the web automation testing tool and ensure that it helps in testing both web and APIs comprehensively and capably.
The web automation testing tool should do a fair amount of heavy lifting and capably automate all aspects of the quality lifecycle from test design all the way to test planning & execution.
Given the increasing need for CI due to the adoption of development methodologies such as DevOps and agile, the test automation tool should be CI ready, scalable, and ready for enterprise use.
The tool should also allow in-sprint and early automation with virtualized abstraction for functional testing.
It should fit seamlessly into the existing ecosystem and integrate with tools like Jira, TFS, Jenkins, Bamboo, etc.
The capability to enable a design-first approach that relinquishes the need for custom frameworks is also an important functionality that the tool must have.
How to Ensure a Comprehensive Test Design and Coverage
Comprehensive test automation needs comprehensive test design and test cases. As such, the next stage is all about designing test cases for execution.
When designing these test cases, it becomes important to ensure that:
The test case templates can be reused in multiple projects.
The test cases are simple, concise, and decipherable.
The tests are prioritized in a hierarchy based on the feature or software component under test.
The test scripts are written in an organized manner with the proper naming convention.
The source code is maintained in source control to avoid code loss, and version control and history are maintained as well.
Make sure to write the test automation cases and scripts following the programming best practices since test automation is akin to software development. It is also important to maintain and update the scripts for flawless execution.
Organizations can also leverage codeless web automation tools that eliminate tasks like choosing the framework, the automation language, framework implementation, etc. These platforms allow business users and manual testers easily automate tests since they allow test creation using simple English.
Using test automation platforms that enable reusability and abstraction makes the test cases more modular and allows these to be reused in some other test scenario.
When the testing tool/platform allows for cross-browser testing across modern browsers like Chrome, Firefox, Safari, Internet Explorer, and Edge, it eliminates the need for any external infrastructure service. This accelerates the testing process without compromising on testing coverage.
Test Management Strategies
Developing test asset management capabilities and driving smart test management contribute to testing automation success. This is especially important as testing shifts left.
Organizations need to
Enable automated test planning to make the test automation strategy, goals, and scope clear and defined.
Ensure better test asset management through greater traceability and referential integrity across the test assets.
Run the test cases in proper succession to identify bugs and verify the performance of every feature. Start with individual test cases and then move to regression testing.
Review results and optimize the test suites for greater efficiency.
The Challenges with Test Automation
While test automation is critical and non-negotiable in today's development environment, setting up a test automation strategy is challenging.
It needs time, effort, expertise, and resources.
Teams need to ensure that the test scripts are written well to drive testing outcomes.
Organizations need to consider the programming languages and the knowledge gaps.
It is also essential to determine if new-age technologies can be tested using these scripts.
Smart, codeless, and comprehensive test automation platforms are emerging as a result of these challenges and the subsequent need to fine-tune test automation. Organizations can now choose comprehensive codeless test automation platforms with AI-powered natural language automation and a next-gen recorder. These tools help teams to automate fast while removing maintenance needs.
These platforms also automate test design, maximizing coverage and reusability. They allow testers to develop test scenarios based on predictive analytics and path analysis. Auto-test generation capabilities further accelerate the testing process and add agility to the development process.
It is, however, important to ensure that the codeless web automation platform supports evolving and new technologies. It should also help manual testers build test cases for automation without having to program them.
As customers demand perfection, it becomes essential to increase the testing footprint and test more comprehensively, and accurately. As customers demand perfection, increasing the testing footprint and testing more comprehensively and accurately becomes essential. The capacity to test fast with greater agility to ensure a faster time to market and greater customer satisfaction is very important.
Connect with us to see how we can augment your test automation initiatives and help you deliver winning software products into the market.
Related Posts