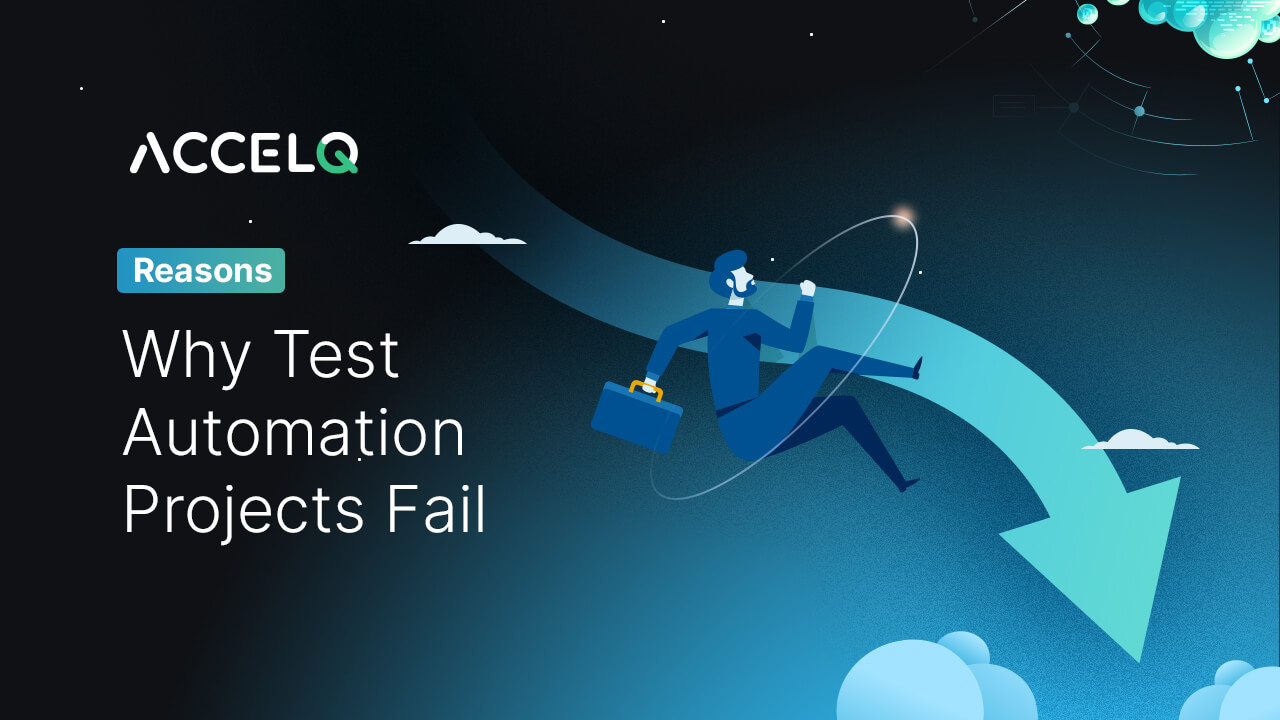 Posted On: 26 December 2022
As quality and time-to-market pressures intensify, software development teams are increasingly embracing test automation to achieve better testing efficiencies and scale. But despite test automation's benefits, the rate of failed projects is alarmingly high.
To that end, this blog will take you through the following:
Reasons Why Test Automation Projects Fail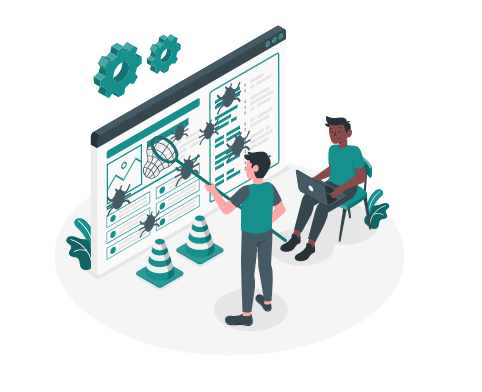 It's surprising how a concept like a test automation, which is known to streamline testing activities and drive exceptional testing outcomes, can have such a high failure rate. However, like any technology, test automation needs to be approached with extreme planning and caution. Or else, what ideally should lead to an increase in quality, efficiency, and speed could result in budget overruns, delayed deliveries, and extremely poor test outcomes.
1. Assuming Automation to Solve All Testing Problems
There is no doubt about the fact that automation can accelerate testing outcomes. But it's certainly not a magic wand that will solve all your testing problems. Automation is, after all, just a tool that will make your testing process run like a well-oiled machine. If your processes are broken, your strategies are not robust, and your approach to testing is haphazard, automation will only weaken your test organization.
To achieve the best results from test automation, everyone needs to have a shared understanding of testing goals, challenges, and improvement opportunities. Businesses must set the right expectations and have the right people work toward successful and sustained automation.
2. Reliance on Too Many Systems
In the hurry to embrace test automation, testing teams often end up adopting a slew of testing tools and systems. They aim to drive as much automation as possible. However, the reliance on numerous systems can make test automation a nightmare. Using a different tool to automate across different channels and devices can lead to more clarity. This is especially the case while enabling automation in a multi-cloud packaged environment.
If you want to drive the quickest and most effective test automation results, you must opt for a unified platform. Such a platform can allow for seamless multi-channel automation across the enterprise stack. In essence, it can seamlessly cater to all your testing needs – across web, API, desktop, and mobile. All in all, it can enable continuous test automation, ensure end-to-end business assurance, and effective quality lifecycle management.
3. Aiming for 100% Automation
Test automation can do wonders for any software development project, allowing teams to streamline testing, find defects earlier, and release products faster. But you can still automate some things. Aiming for 100% automation often leads to teams being overworked. This eventually leads to unnecessary frustration, slow progress, and missed milestones/deadlines.
To realize the best outcomes, it is crucial to prioritize processes and workflows and ensure the tackling of high-value items first. Have subject matter experts point out potential risks or roadblocks in the test automation journey and demonstrate what is being automated (and why) to avoid duplication of efforts.
Ready to Get Started?
Let our team experts walk you through how ACCELQ can assist you in achieving a true continuous testing automation
4. Excessive Coding
Most test automation tools available in the market today demand testers to write lines and lines of code to curate new test cases and build new test suites. But such excessive coding can make the testing process extremely sluggish. Since testers end up spending countless hours programming, they have little or no time left for more strategic tasks. For today's complex products, the coding effort gets multiplied manifold, making it rather difficult or even impossible to handle real-world challenges.
Investing in a low or no-code test automation platform is a great way to drive the best testing outcomes – without putting in any effort in building new test suites from scratch. A modern low-code platform can offer the intuitiveness and scalability you need to achieve your test automation goals. It can offer capabilities to cater to modern-day complexities.
5. Taking a Black Box Approach to Testing
Another common reason why test automation projects fail is because of a black-box approach to testing. Just assembling high-level blocks is a quick solution to test automation. Unfortunately, it's not sustainable in the long run. Since test automation needs extreme fluidity to develop complex workflows, testers should be able to freely develop test logic without worrying about the programming syntax.
Embracing a tool that allows the development of complex test logic without losing the simplicity of the natural language is what you need to enable the required level of modularity and reusability in the development of test assets. Rather than creating individual test cases, you should simplify testing challenges to address real-world complexities.
Achieving Test Automation Success with ACCELQ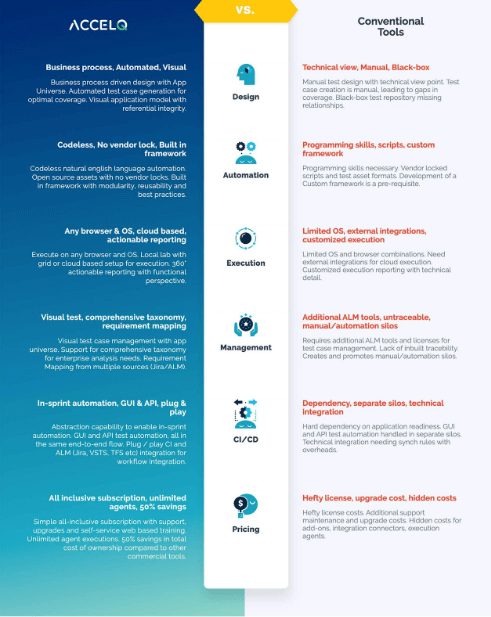 As a unified, codeless, and AI-powered test automation platform, ACCELQ offers all the capabilities today's testers need to drive end-to-end business assurance. This next-gen agile quality management platform helps accelerate your testing cycle – so you can achieve continuous testing and delivery.
Investing in ACCELQ for test automation can allow you to:
Design, automate, execute, and track test plans across web, API, desktop, and mobile – with little or no coding – and in the same unified flow
Get out-of-the-box support for dynamic and complex elements and seamlessly handle new and evolving technologies
Extend the test framework for third-party custom controls and enjoy robust AI-driven event handling and self-healing
Automate every aspect of the quality lifecycle and enable in-sprint automation with virtualized abstraction
Pave the way for AI-driven test development (and maintenance) for intelligent, scalable, and intuitive test automation
Enabled unified and integrated test management that not only brings different types of testing together but also integrates with tools like Jira and Jenkins
Leverage integrated device cloud labs for cross-device testing using a simple plug-and-play model
Achieve end-to-end validations with API and UI in the same flow for robust and mature testing
Make the most of AI-powered object handling and eliminate test flakiness with ease.
Ensuring Test Automation Project Success
Test automation can lead to effective testing outcomes if known to all. But achieving the right results from software testing depends on several factors:
Investing in the right tools
Keeping up with best practices
Getting the right people on board
All these remain critical to a successful ongoing test automation effort.
If you want to prevent your test automation project from failing, you need to set realistic expectations, prioritize workflows, and adopt an approach that caters to your unique testing requirements.
Contact us today to learn how ACCELQ can help you get the best results from your test automation efforts and ensure all your projects achieve a 100% success rate.