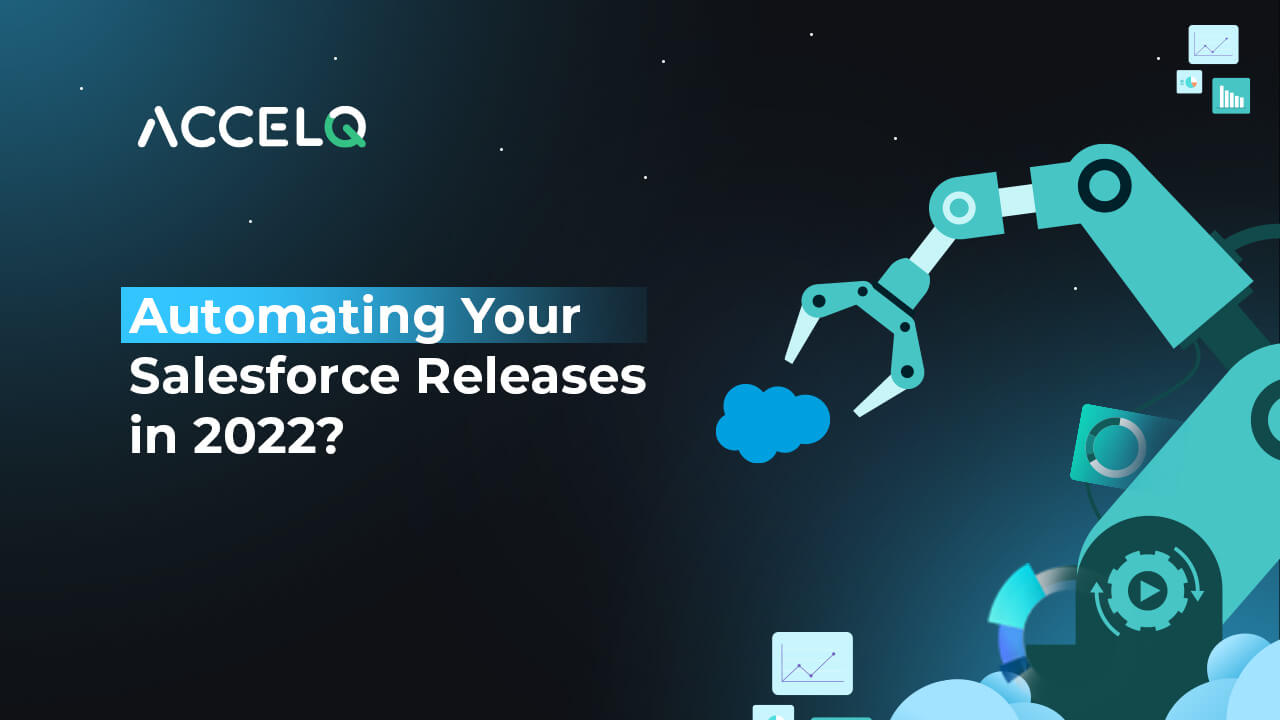 Posted On: 21 November 2022
With Salesforce releasing new features and updates periodically, there is a pressing need for your Salesforce teams to efficiently manage these frequent releases. But how do you make sure you implement all the new features and changes in the quickest time possible? How do you get your users to make the most of the latest updates? In short, by automating your Salesforce releases.
In this blog, we will talk about
Ready to Get Started?
Let our team experts walk you through how ACCELQ can assist you in achieving a true continuous testing automation
The Need for Automating Your Salesforce Releases
To keep up with the latest market trends and evolving customer expectations, you must constantly update your tools and processes. That's what Salesforce does unfailingly. Through periodic upgrades, updates, and patches, it releases a bunch of new and updated features that empower organizations with all the capabilities they need to deal with emerging challenges head-on.
Now, for your teams to manually implement these updates and upgrades is not only time-consuming but also highly error-prone. Manual release management can also affect the reliability of new features while impacting how frequent and consistent your releases are. Introducing automation in every stage – from development and testing to deployment and continuous monitoring post-release – can help you cut down on time to market. It can enable your users to leverage all the new updates almost immediately.
Automating your Salesforce releases can help you:
Streamline the release management process as changes pass through the application development pipeline.
Increase the velocity with which you produce releases, thus solidifying your Salesforce environment.
Avoid spending too much time manually implementing different changes. This can improve the productivity and efficiency of your workforce.
Minimize the chances of inaccurate implementation and reduce improper functions from being released to your users.
Reduce the number of bugs and errors in your Salesforce instance while also avoiding failed deployments and bug-laden releases.
Identify and resolve flaws that otherwise might go unnoticed via manual efforts and oversight.
Implement the right set of security controls and safeguard your Salesforce environment against growing cyberattacks.
Deliver a better experience to your users while reducing stress and frustration.
Tips and Best Practices for Automating Salesforce Releases
If you want to deliver stronger releases and ensure happier customers, you need to put effort into automating your Salesforce releases. The right approach to automation can not only stabilize your updates but also fortify them against breaches. To that end, let's look at the top tips and best practices for automating your Salesforce releases:
1. Establish a Robust Release Pipeline
Automating Salesforce releases is just not about eliminating a handful of manual tasks. For sustained benefits, you need to be able to establish a robust release pipeline that ensures the highest level of scalability and security of your Salesforce releases.
2. Make the Most of DevOps
Embracing DevOps can also help in maturing your approach to automate Salesforce releases. This includes undergoing a cultural change and embracing tools and processes that strengthen the release pipeline. DevOps can make releases consistent and prevent bugs and errors from reaching production.
3. Ensure Reusability
With Salesforce introducing new updates and changes regularly, whatever tools or approaches you choose, it pays to ensure reusability. Reusability will help you minimize the time and effort it takes to standardize the release management process. It will also allow you to bring new features to your users quickly and efficiently.
4. Use Caution
When you choose a process or task that you want to automate, do so only once you're sure the process is reliable and repeatable. This will ensure your Salesforce deployments succeed consistently and that your users can benefit from the new updates.
5. Take Baby Steps
Taking a Big Bang approach to automation might seem like a quick way to reap all the advantages. But the results do not always work in your favor. Shipping incremental improvements instead is a great way to improve the reliability of Salesforce releases. Since small release packages are less likely to cause deployment failure, they can help you improve your release cadence game. Moreover, they can reduce the likelihood of issues such as merge conflicts.
6. Go Codeless
Another best practice to embrace to automate your Salesforce releases is the adoption of codeless tools. In essence, such tools can deliver a quick and sustainable way of automating the testing process – across the quality lifecycle.
If you want your employees and your customers to make the most of every feature update or change that Salesforce releases, you need to ensure consistent and high-quality Salesforce releases. ACCELQ takes an automated approach to Salesforce release management, helping you position yourself as a frontrunner in your industry while also being lauded for your ability to produce innovations regularly.
ACCELQ's algorithmic & automated test case generation with Salesforce data models delivers several benefits for those looking to automate their Salesforce releases.
Through test automation that's lightning fast and easy, just like Salesforce, ACCELQ can help you automate every aspect of the release management process and establish a quality lifecycle that is reliable and free of bugs.
Using a design-first approach, this codeless, CI-ready, AI-based tool offers inbuilt modularity. As a result, you do not have to spend the time or effort in building custom frameworks.
ACCELQ enables early in-sprint automation with industry-first virtualized abstraction for functional testing. It also integrates seamlessly with the existing tech ecosystem comprising tools such as Jira, Jenkins, Bamboo, and more.
The tool also delivers a bunch of DevOps capabilities that ensure each release is secure and functions as intended.
Using AI-driven automation optimized for Salesforce-specific dynamic technology, ACCELQ enables seamless no-code automation and handles Salesforce dynamic elements & iframes with ease.
The tool offers Lightning and Classic support for all Salesforce instances. It reduces automation maintenance by 70% via self-healing automation capabilities.
Ensure Continuous and Automated Salesforce Releases
As the only continuous test automation and management platform listed on Salesforce App Exchange, ACCELQ is easy to set up and use and offers end-to-end capabilities needed to deliver Quality Salesforce implementations. Implement ACCELQ today and make the most of continuous and automated end-to-end testing of your Salesforce releases.
Related Posts