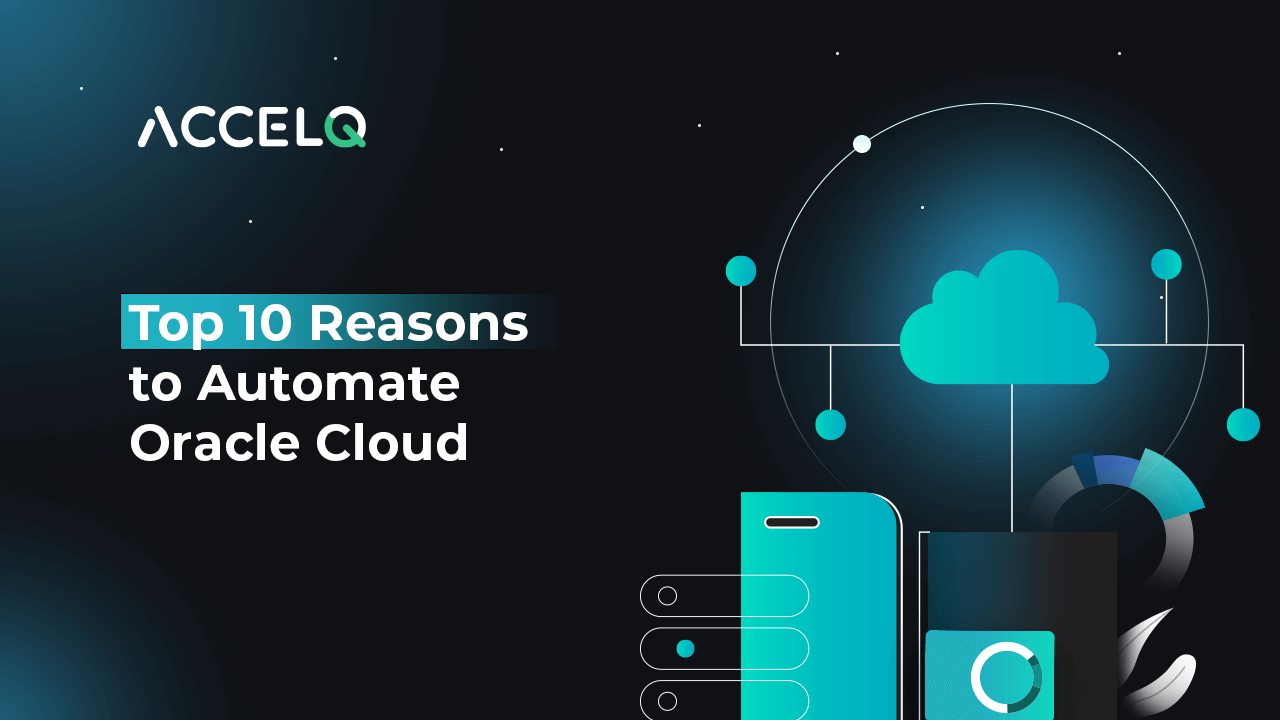 Posted On: 19 October 2022
If you want to accelerate business innovation, embracing Oracle Cloud is a great way to enable better scalability, availability, reliability, and more. But as minimizing turnaround times and enabling continuous delivery becomes a top priority, automating Oracle Cloud is necessary to validate new features, ensure adherence to the latest regulations, catch bugs, and ensure that the system works as expected.
In this blog, we will talk about
Ready to Get Started?
Let our team experts walk you through how ACCELQ can assist you in achieving a true continuous testing automation
Oracle Cloud offers an array of tools, enabling organizations to make a smooth and stress-free journey to the cloud. With improved automation and security capabilities, it helps them easily mitigate threats and ultimately support superior employee and customer experiences. Built for innovation, Oracle Cloud Infrastructure supports emerging technologies such as AI, machine learning, IoT, blockchain, and more and is backed by end-to-end SLAs that help carve new business models and drive additional business value.
Why Are Organizations Embracing Oracle Cloud?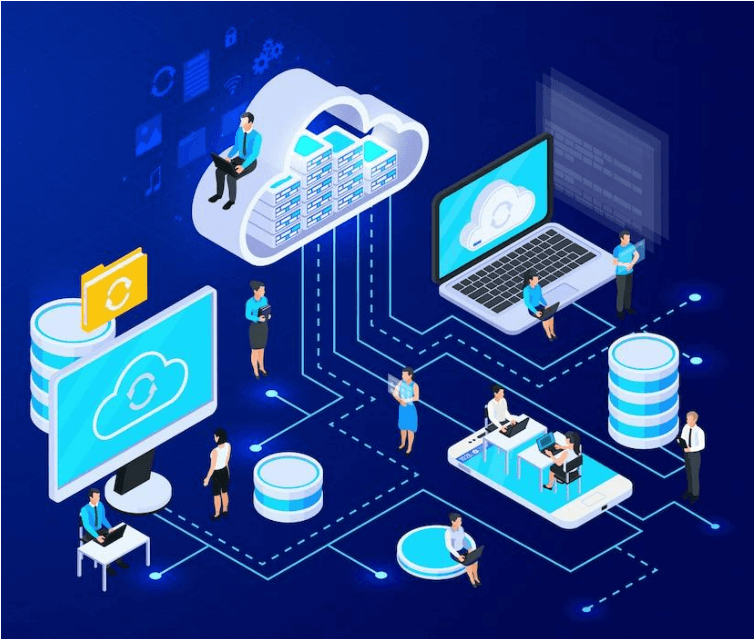 Whether you want to handle a large financial system, streamline government workloads, or support data-intensive applications, Oracle Cloud's next-gen architecture specifically meets the needs of modern enterprises. It provides:
Faster and more predictable performance
Better pricing and security
Enhanced compatibility with existing applications
As a result, it enables enterprises to easily deploy mission-critical applications and drive continuous innovation.
Thousands of organizations across the world are embracing Oracle Cloud Infrastructure to:
Quickly and seamlessly migrate to the cloud
Enjoy seamless anytime, anywhere accessibility
Optimize performance across workloads
Build and deliver mobile-first cloud applications to customers
Improve service reliability and availability
Enhance security and governance
Strengthen and centralize data backups
What Are the Top Reasons to Automate Oracle Cloud?
As more and more organizations embrace Oracle Cloud, there is a pressing need to drive end-to-end test automation. Oracle test automation allows testing teams to validate existing and upcoming features and ensure they meet expected performance, availability, and security requirements.
To that end, let's look at the top 10 reasons to automate Oracle Cloud:
1. Take a One-Stop Approach to Testing
Oracle Cloud automation allows teams to streamline testing across all enterprise apps and technology stacks. Using a one-stop approach to testing helps simplify complex testing activities. It also helps overcome the challenges associated with manual testing.
2. Ensure Real-Time release Alignment
Automating Oracle Cloud is a great way to ensure real-time release alignment. Since Oracle constantly releases new features, updates, and patches, Oracle Cloud test automation helps organizations efficiently test these new capabilities and bring them to users consistently and reliably.
3. Enable Seamless Integration with the CI/CD Pipeline
Automated regression executions of Oracle Cloud enable seamless integration with the CI/CD pipeline. By introducing automation and continuous monitoring throughout the software development lifecycle, Oracle Cloud test automation paves the way for continuous everything.
4. Keep Pace with the Oracle Cloud Fusion Apps
Automation of Oracle Cloud also makes it easy for organizations to ensure a comprehensive alignment with the complete Oracle Cloud Fusion Apps. Since all changes and updates are handled in an automated fashion, teams can deliver a consistent experience to users that rely on a variety of Oracle tools and apps.
5. Speed Digital Assurance
Oracle Cloud Automation can also speed digital assurance by almost 10 times. By empowering teams with modern capabilities, such automation can assure the quality of digital transformation projects while allowing teams to streamline testing across a host of technological paradigms such as cloud, mobility, and more.
6. Empower Business Users
Teams that automate Oracle Cloud testing can deliver a far better experience to users. In essence, automation can empower business users with the most consistent, secure, and refined Oracle experience through improved test coverage and reduced errors.
7. Shift Testing Left
Oracle Cloud test automation also helps in shifting testing left. Since teams can easily push testing activities toward the early stages of software development (without worrying if they have the manual resources available), they can test early and often. This reduces the number of bugs and improves the code quality.
8. Achieve Continuous Delivery
Automating Oracle Cloud also helps achieve continuous delivery by delivering new code releases as quickly as possible to users. By running automated tests against any new code changes, testing teams can verify that those changes don't break already established features and also don't introduce new bugs.
9. Enable Efficient Handling of Oracle Objects
Oracle Cloud test automation also makes it easy for testing teams to tackle complex objects like embedded iframes, trees, etc. Such a comprehensive approach to validation logic for dynamic objects also ensures alignment with Oracle object library updates and automated Oracle releases.
10. Ensure Zero Defects
As testing becomes increasingly complex, Oracle Cloud test automation also helps in ensuring zero defects – with little or no human intervention. Instead of having testers manually scan code to identify defects, teams can leverage automation to find and resolve bugs and release zero defect code to users.
How Can ACCELQ Help in Automating Oracle Cloud?
As an advanced, AI-enabled test automation tool, ACCELQ paves the way for no-code test automation of the Oracle Cloud. Using ACCELQ, teams can enable easy and quick business process validation and enjoy several benefits, such as:
Easy and low maintenance with automated change impact across dependencies
Real-time alignment with ongoing Oracle releases and updates
Reusable assets directly relating to Oracle application flow
AI-based codeless object interaction and self-healing for Oracle
Simple no-code handling of Oracle objects like embedded iframes, trees, etc.
Comprehensive codeless approach to validation logic for dynamic objects
Self-healing object identification
In-sprint automation for shift-left and continuous testing
Coverage analysis and traceability for intelligent test planning and tracking
Integration with the CI/CD pipeline for automated regression executions
Intuitive and fast cross-platform executions on cloud or on-premise labs
Parallel executions for quick turnarounds by scheduling runs regularly or triggered by CI workflow
As the adoption rate of Oracle Cloud surges, organizations need to uncover new ways to accelerate their release cycles. Automating Oracle Cloud helps organizations in driving end-to-end testing coverage through automated tests across applications that are run using Oracle Cloud Infrastructure.
When teams automate Oracle Cloud, they are in a better position to accelerate the delivery pipeline while efficiently identifying and rectifying bugs and quickly bringing new features and changes into the market. Contact us today to enable no-code test automation for all Oracle suites and ensure real-time release alignment of Oracle Cloud using ACCELQ's AI-powered test automation platform.
Related Posts