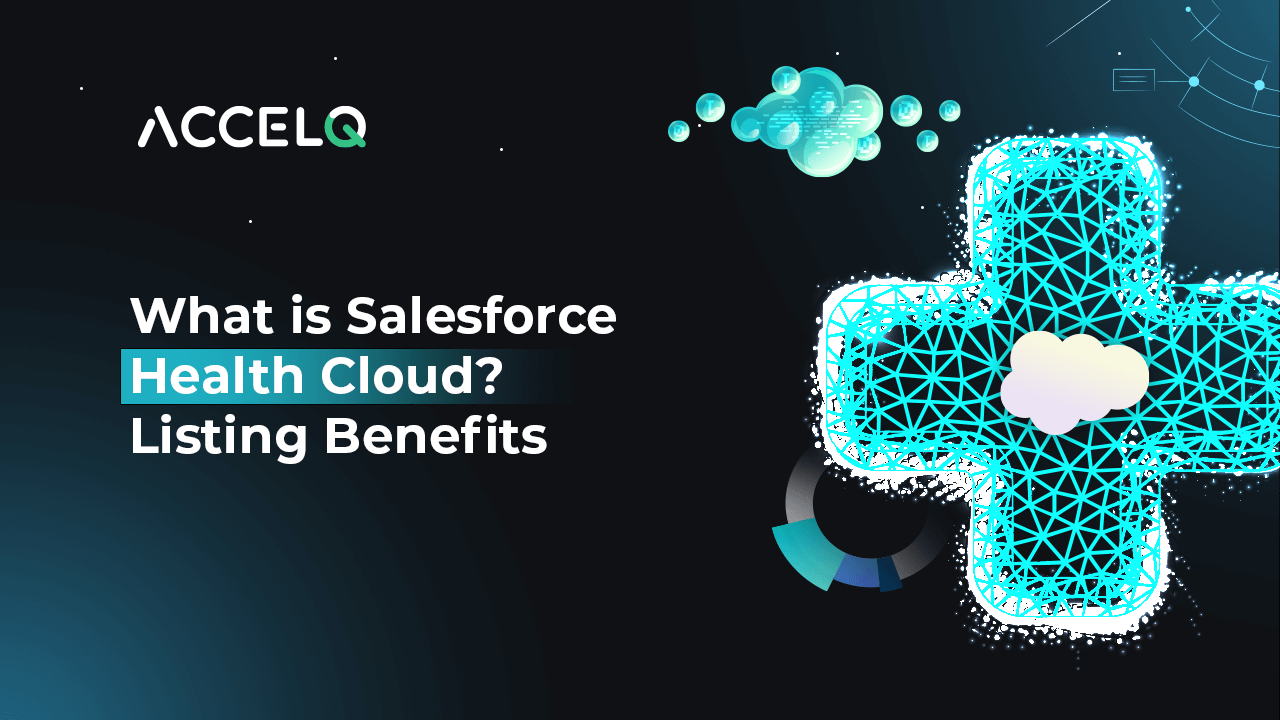 Posted On: 2 November 2022
As one of the world's most popular CRM platforms, Salesforce has been enjoying massive adoption across various industries. But to cater to the healthcare industry's unique needs and transform the patient experience, Salesforce has now launched the Salesforce Health Cloud.
In this blog, we will:
Ready to Get Started?
Let our team experts walk you through how ACCELQ can assist you in achieving a true continuous testing automation
Introducing Salesforce Health Cloud
Salesforce Health Cloud is a healthcare industry-specific cloud offered by Salesforce to meet the sector's unique needs. It allows teams to get a comprehensive view of each patient's profile – including age, demographics, previous illnesses, communication history, and more.
Moreover, it equips them with access to critical clinical and non-clinical data. Using this data, healthcare organizations can more seamlessly connect and engage with every patient, member, employee, and partner.
To that end, here are the top reasons that make Salesforce Health Cloud so popular:
Enabling healthcare providers to take a patient-centric approach
A unified interface that enables healthcare organizations to bridge data silos, overcome inconsistencies, and address security loopholes
Integrating critical data from different tools and systems across the patient and care lifecycle
Access to up-to-the-minute details of patients, including appointment history, current symptoms, and medications
The ability to customize care plans on a case-to-case basis
Empowering doctors to drive real-time patient engagement
Enabling patients to have access to their entire health history
Understanding the Many Benefits
Unlike a generic cloud that offers standard capabilities, Salesforce Health Cloud empowers healthcare organizations with features that best suit the needs of the industry. Let's look at the top five benefits of Salesforce Health Cloud: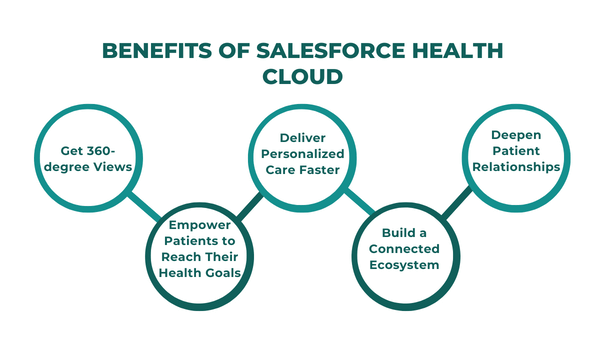 1. Get 360-degree Views
Salesforce Health Cloud provides 360-degree views of patients across the care lifecycle. Such visibility allows care providers to form a deep understanding of each patient's profile while linking it with corresponding clinical and non-clinical data.
The Health Cloud also surfaces real-time information from EHR systems, membership and claims systems, medical devices, and wearables. As a result, healthcare professionals can make evidence-based decisions using updated and relevant health data.
2. Empower Patients to Reach Their Health Goals
In essence, Salesforce Health Cloud allows healthcare decision-makers to make the right diagnosis and treatment decisions. Furthermore, it empowers patients to accomplish their health goals and drive efforts toward healthy and sustainable living. Through real-time access to health data, it empowers patients to monitor vital health stats and track progress toward their health goals and care plans.
3. Deliver Personalized Care Faster
Being a healthcare industry-specific solution, Salesforce Health Cloud enables doctors to monitor individual cases and prioritize tasks based on their urgency. Leveraging advanced case management capabilities, providers can segment populations by condition, demographics, or risk. As a result, they can deliver care tailored to each patient – based on their current health condition and past treatments, and history.
4. Build a Connected Ecosystem
With healthcare organizations relying on an array of different tools and systems to deliver care to patients, there is always the risk of decisions being taken – without looking at the bigger picture. To that end, Salesforce Health Cloud helps healthcare organizations integrate the solution with existing apps and platforms and build a connected ecosystem.
Such an amalgamation of health apps and tools allows care providers to have access to the right information at the right time and unlock the capabilities of different systems via a single interface.
5. Deepen Patient Relationships
Salesforce Health Cloud also enables healthcare organizations to deepen patient relationships via a connected experience. Using a single, centralized platform, doctors and other caretakers can seamlessly manage all tasks - from enrollment to administration and care support. Further, they can anticipate needs with intelligence to deliver proactive care.
Making the Most of Salesforce Health Cloud
If you want to put patients at the heart of your healthcare organization, adopting Salesforce Health Cloud is a great way to transform care outcomes. Built with innovative capabilities that are curated for the healthcare industry, Salesforce Health Cloud helps you create 1-1 patient journeys. This way, you can make the best healthcare decisions while fueling better patient experiences.
The cloud solution also allows patients to get quick access to the right healthcare services using a single engagement platform and enjoy higher levels of satisfaction.
Make the shift to value-based care today and exploit the many capabilities of Salesforce Health Cloud to deliver proactive care, improve communications across the care continuum, and win patient trust using a single, unified care platform.
Frequently Asked Questions (FAQs)
Still have questions regarding Salesforce Health Cloud? Here are answers to popular FAQs:
1. What is Salesforce Health Cloud?
Salesforce Health Cloud is a cloud platform offered by Salesforce to improve patient experience via personalized engagement. It provides a complete view of the patient, allowing for smarter patient management and a connected patient engagement experience.
2. Why do healthcare organizations need to invest in an industry-specific health cloud?
Investing in an industry-specific solution like the Salesforce Health Cloud can equip healthcare organizations with all the data, tools, resources, and capabilities they need to cater to healthcare-related use cases. From clinical and non-clinical patient data to appointment history, communication preferences, and more – healthcare teams can work smarter across the entire patient lifecycle and deliver insightful care faster.
3. How does the Salesforce Health Cloud help healthcare organizations drive more value?
With patients increasingly demanding better and quicker healthcare, the Salesforce Health Cloud allows organizations to deliver personalized experiences - throughout the care continuum. By bringing health professionals from across the business ecosystem into a single place, the cloud aids in seamless collaboration. This results in better patient management and eventually better patient relationships.
4. How easy is it for organizations to integrate Salesforce Health Cloud with existing applications?
Salesforce understands the need for healthcare organizations to build a unified ecosystem of connected apps and solutions. Keeping this in mind, the Salesforce Health Cloud enables seamless and rich integration with existing EHR and health information systems. As a result, it allows decision-makers to get real-time access to patient information and make the right healthcare decisions.
Related Posts