According to the World Health Organization (WHO), 15% of the global population (or approximately 1 billion people) suffer from some form of a physical disability that impacts how they interact with digital or connected devices. To improve accessibility, product innovators are deploying various technologies like screen readers, screen magnification, speech recognition, and special keyboards. This highlights the need for accessibility testing of digital products.
Not every product or website is designed to provide easy accessibility to people with disabilities. On average, there are 51.4 accessibility-related errors on the homepage of the leading one million websites. According to the 2021 Pew Research report, 75% of Americans with disabilities use the Internet daily.
Further, with more users with disabilities using mobile phones and apps, mobile testing is not complete with efficient accessibility testing. In short, accessibility matters for every user, which is why accessibility testing is essential for product development companies.
In this blog, let us understand
What is Accessibility Testing?
As part of usability testing, accessibility testing enables digital products and applications to be accessible to people with disabilities like blindness, hearing problems, or cognitive impairments.
It is measured around the following four principles, namely: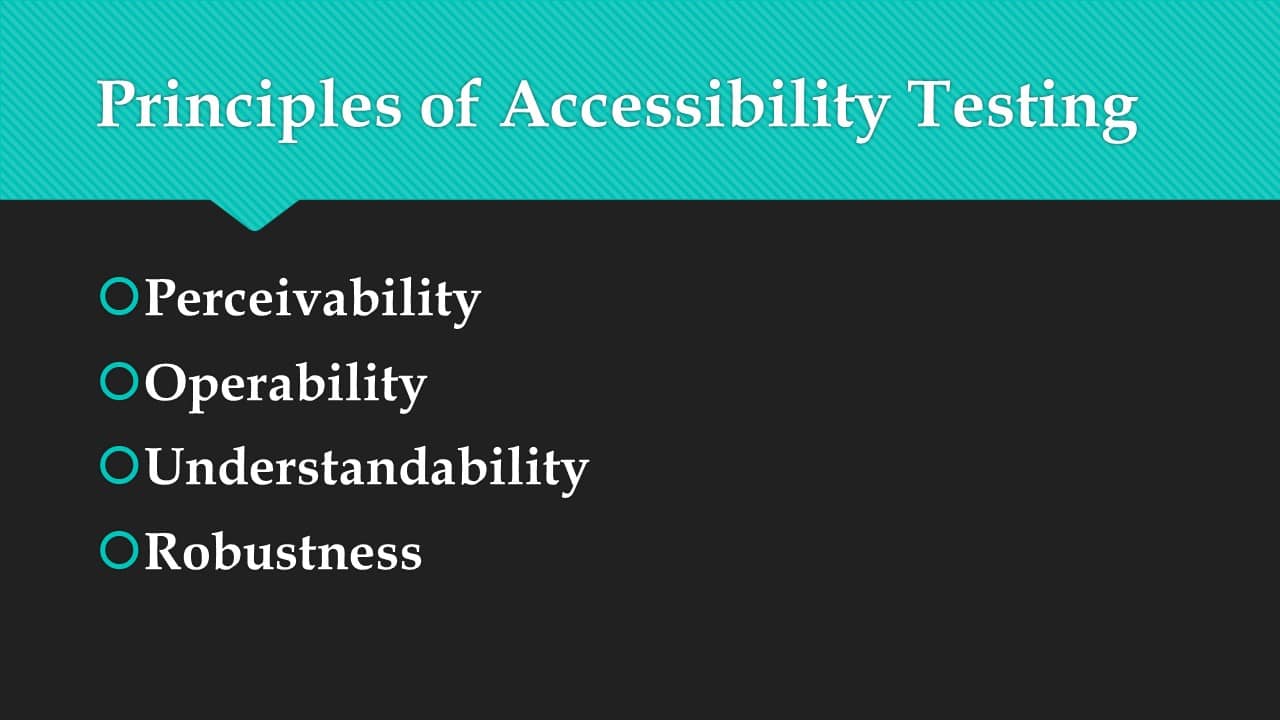 Perceivability – or the presentability of the UI components or information that users can understand with at least one of their senses.
Operability – or the ability of all users to interact with the application components or navigation.
Understandability – or how easily users with disabilities can understand the conveyed information and the application interface.
Robustness – or the level of the presented content to be interpreted correctly using various technologies or user devices.
Users with disabilities will be unable to use the application or website if we don't satisfy these principles. Next, let us discuss why accessibility testing is important for software product companies.
Why is Accessibility Testing Important?
The growing importance of digital technologies and applications means that more users use digitalmtools now. Also, including those with disabilities. Hence, product companies must make their applications accessible to people with diverse abilities.
As part of the Web Content Accessibility Guidelines (or WCAG) 2.0, global governments are now trying to make web content accessible to persons with disabilities. Government legislation is being levied to make software products accessible to people with disabilities.
Using either manual or automation testing, online businesses and product companies can leverage accessibility testing to:
Improve accessibility to customers with physical disabilities or challenges.
Increase their customer base and market share.
Improve accessibility for users with low-bandwidth Internet.
Provide relevant content and information to more users.
Create market opportunities in untapped markets.
For instance, 70% of the global websites are inaccessible to people with disabilities. This is a major market opportunity that is waiting to be tapped. Similarly, two-thirds of the U.S-based eCommerce stores are losing over $6.9 billion of potential revenues, as they are not accessible to users with disabilities.
Besides persons with disabilities, accessibility testing should also cater to older people, children, left-handed users, non-native English speakers, and many more.
Next, let us look at 4 business benefits of accessibility testing for websites and product companies.
Ready to Get Started?
Let our team experts walk you through how ACCELQ can assist you in achieving a true continuous testing automation
4 Benefits of Accessibility Testing
Firstly, let us look at some of the business benefits: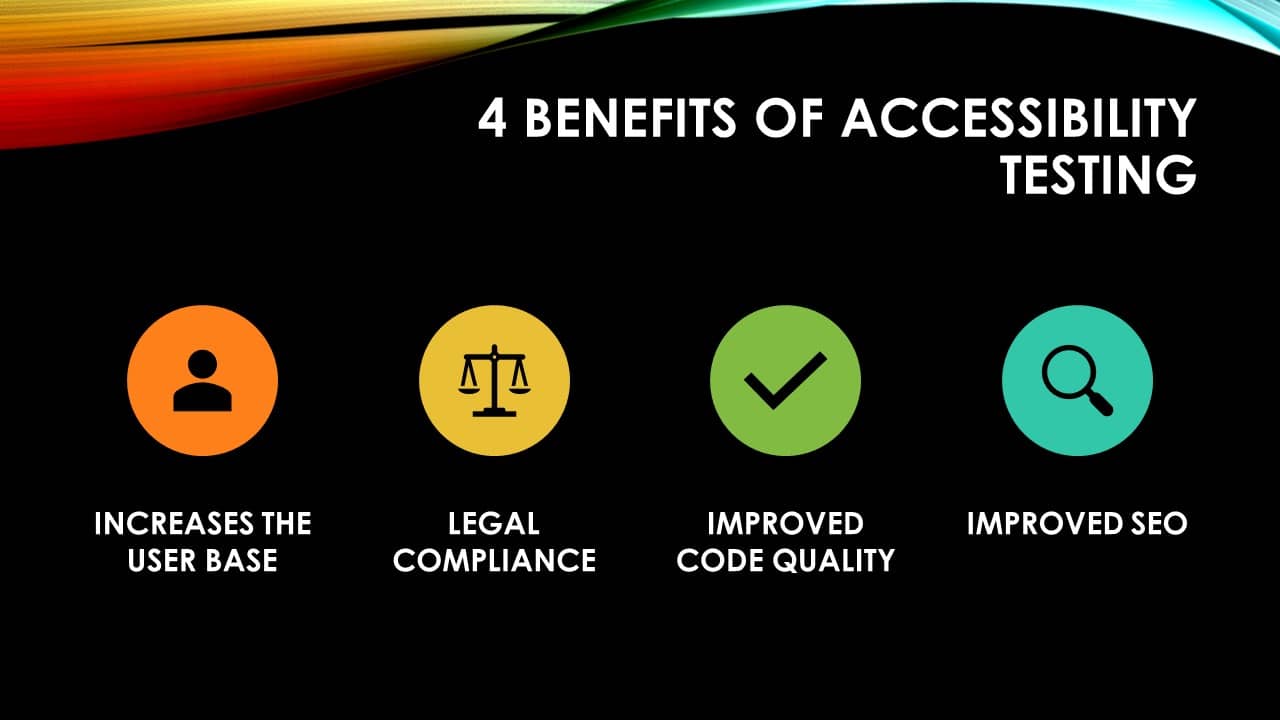 Increases the user base
Websites that are not accessible have a smaller user base. Accessibility testing ontime can improve the accessibility of websites and products and make them available to a wider user base. With a well-defined accessibility testing strategy, it is possible to convey website/ application information in multiple forms including images with Alt Text, written transcripts, video captions, and resizable text.
Accessibility testing must be an integral part of any software testing process – from the beginning of the software development process. Moreover, delayed accessibility testing can lead to software bugs and higher costs.
Legal compliance
According to Seyfarth, there are over 2,500 lawsuits filed in U.S federal courts in 2020 under the Americans with Disabilities Act. This represented a 12% increase in lawsuits from 2019. Effectively, more companies need to comply with legal regulations and provide all users with a high degree of accessibility. For instance, effective from 2001, the Workforce Rehabilitation Act (or Section 508) must ensure that all U.S federal agencies must satisfy accessibility standards when procuring, using, and developing various communication devices.
Product companies can avoid a host of legal tangles and penalties by implementing accessibility testing for their products (or websites).
Improved code quality
In effect, accessibility testing can increase the scope of usability testing and create a high-quality codebase for the finished product/website. This is largely due to accessibility testing tools identifying various coding errors that can otherwise lead to usability issues/software bugs.
For instance, shopping sites on average, reduced their accessibility errors from 90.5 (in 2020) to 75.2 errors (in 2021) using accessibility testing. How does high-quality code help? Besides creating fewer bugs, it provides a better user interface (and user experience) and faster loading on any user device.
Improved SEO
Accessibility-friendly websites contain rich text content, thus enabling search engines to find them while looking up relevant content easily. A higher SEO ranking means that search engines are likely to drive more traffic to the website, resulting in more conversions and revenues.
Besides that, accessibility testing helps create applications and websites with simpler interfaces and navigation, thus reducing bounce rates and encouraging more users to use them regularly.
Thanks to the growing use of smartphones and personal devices, the demand for accessibility testing will continue to remain strong over the coming years. A recent study by Straits found that the global market for accessibility tests will cross an estimated $606.46 million by the year 2027. The scope accessibility testing is vast and growing. It is advantageous for any company or webpage to adopt a low-code testing platform.
Recognized by Forrester Wave as the leader in the "Continuous Test Automation Suites" category in 2020, ACCELQ offers an automation testing platform that can reduce the product development time and help you to focus on making your product (or website) accessible to users with disabilities. With ACCELQ's innovative approach, companies can improve their ROI through higher productivity and cost savings.
Related Posts