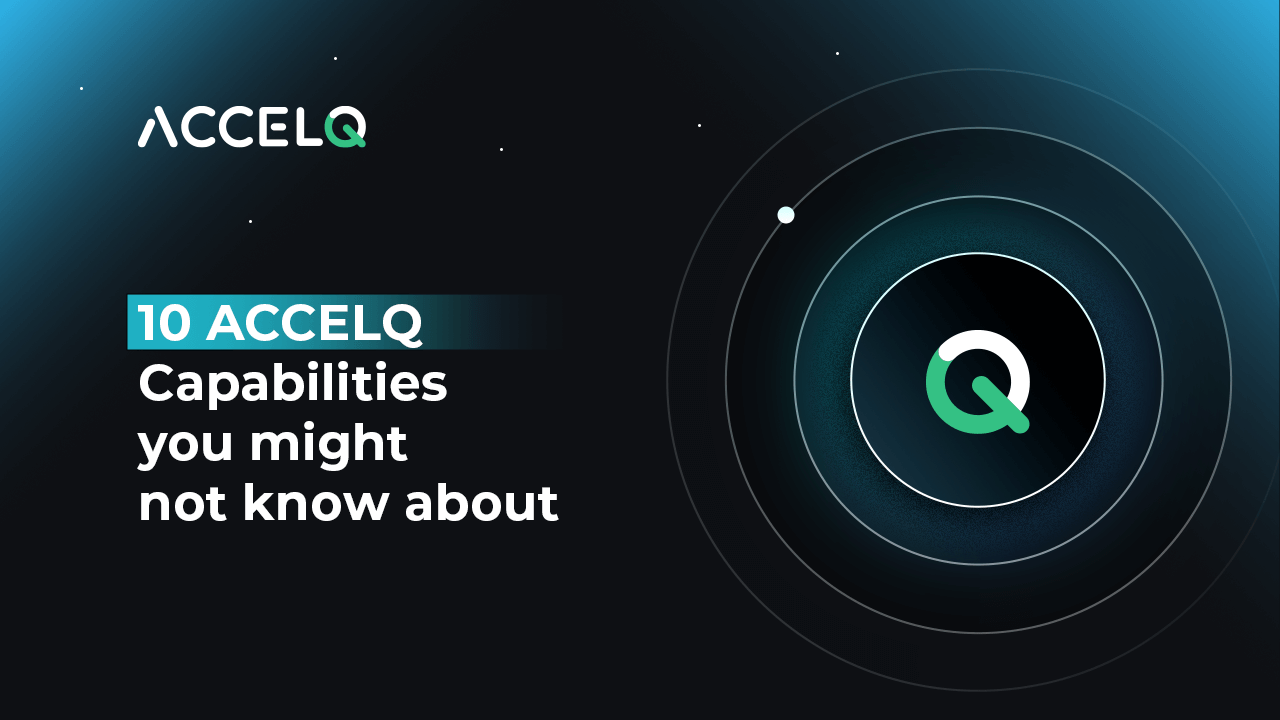 Posted On: 25 August 2022
Delivering top-quality software is quickly becoming a differentiating factor across the software development world. However, most teams struggle to strike the right balance between quality and time-to-market, primarily due to testing process complexities.
Relying on different tools for different types of testing, writing different test suites for different scenarios, and manually conducting testing make testing a time-consuming, error-prone, and mundane process. But it doesn't have to be that way.
As a centralized tool for all types of testing, ACCELQ is the only next-gen agile quality management platform testers need to overcome all testing challenges and achieve Continuous Delivery.
Let's look at 10 ACCELQ capabilities you might not know about:
1. AI-Powered No-Code Test Automation on the Cloud
ACCELQ allows anyone to intuitively create and maintain automated tests on the cloud without coding. Using the tool, teams can easily carry out cross-browser tests – with fewer resources – bringing down test execution time from hours to minutes.
Most codeless test automation tools in the market today are oversimplified. They take a narrow approach to the overall testing complexity. ACCELQ brings the discipline, flexibility, and power of conventional code-based setup into the codeless world. Since ACCELQ auto-detects changes, it automatically updates test scenarios, making the fixing-broken-scripts process a thing of the past.
2. Fastest Test Automation Development with the Lowest Maintenance
Teams looking to introduce new products into the market are increasingly adopting test automation to reduce the feedback cycle. By helping teams eliminate manual approaches to testing, test automation enables them to detect problems or bugs early in the development lifecycle. And that's what ACCELQ does.
In essence, ACCELQ automates all aspects of the quality lifecycle - from test design to test planning and execution, making it one of the fastest test automation tools. Most importantly, the tool's design-first approach with inbuilt modularity paves the way for autonomous test maintenance while eliminating the need for custom frameworks.
3. Web, API, Mobile, and Desktop Automated in the Same Flow
Unlike most testing tools that focus on just one type of software testing, ACCELQ makes testing across different platforms possible in one central place. By integrating seamlessly with existing tools, it offers a unified platform for the entire enterprise stack. As a result, it enables seamless integration of different types of tests.
Using the platform, testers can enable multichannel automation across Web, API, mobile, and desktop – all in the same flow. This revolutionary approach to business process-focused automation via a multi-cloud packaged app environment affirms seamless and end-to-end business assurance.
4. In-Sprint Automation to Align with DevOps and Agile
The time lag between development and testing is constantly growing, with testing activities starting at least one sprint behind the development process. To ensure development and QA happen in the same sprint, project owners need to be able to bring team collaboration to a whole new level.
ACCELQ helps break down invisible silos between teams by enabling in-sprint automation with industry-first virtualized abstraction for functional testing. Such early and continuous automation at agile speed ensures testing happens parallelly with development and not as an afterthought.
Ready to Get Started?
Let our team experts walk you through how ACCELQ can assist you in achieving a true continuous testing automation
Software development teams must test new features and implement changes at a lightning-fast speed. However, traditional approaches to programming restrict them from achieving accelerated time-to-market expectations.
ACCELQ is a powerful tool that allows testers to handle real-world testing complexities while being extraordinarily intuitive and scalable. Furthermore, it enables manual testers to automate testing without writing a single line of code.
6. Visual Application Model for Business Process Validation
As a tool that leverages predictive analytics, ACCELQ helps testers develop test scenarios using visual application models. In other words, the tool assists in building an application blueprint, allowing teams to make the most of visual test design and keeping business focus intact.
Visual AI capabilities facilitate a birds-eye view of business processes, empowering teams to increase quality, speed up delivery, and reduce costs.
7. Self-Healing Autonomic Test Automation to Align with Fast-Release Changes
Software development teams must keep up with the volatile business environment and evolving customer expectations. But constantly making changes is a time and effort-intensive process and makes the script vulnerable to breaking.
ACCELQ's self-healing autonomic test automation offers various benefits for teams in this regard. In essence, it allows them to run functional tests smoothly and without interruption. By detecting changes and automatically updating them with new attributes, the tool introduces a high level of intelligence and analysis in the testing process, ensuring that designed test cases are functional – and do not fail later.
8. AI-Based Automated Test Case Generation and Data Planning
Creating new test cases for different types of tests takes up a lot of precious tester time, especially when testing complex features or systems. Instead of spending time generating test cases, ACCELQ helps teams focus on rigorously testing new and critical functionality.
Offering a range of connectors and accelerators, AI-based automated test case generation automatically creates models for fast-changing systems while auto-generating test cases from them. Such automation:
Ensures wide coverage of test cases
Helps teams enable risk-based testing and
Empowers them to remain highly proactive towards changing requirements.
9. Built-In Test Management, Version Control, and Governance Capabilities
ACCELQ's built-in test management capabilities bring various types of testing together while also seamlessly integrating with a range of tools. The platform offers unmatched version control and governance capabilities. Therefore, it allows teams to easily track and manage code changes.
These capabilities establish a well-defined set of governance strategies. In addition, they allow for improved collaboration across the development lifecycle – streamlining the management of the continuous delivery pipeline.
10. Seamless CI/CD Integration and Natural Traceability
As developers and testers increasingly work remotely, there is a pressing need to enable seamless integration between their tools and their work. This is important to hold teams together and deliver end-to-end visibility as they move across the SDLC.
ACCELQ allows for advanced traceability across every project lifecycle stage while enabling seamless CI/CD integration. Such integration makes it easy for dispersed teams to keep up with the multidimensional nature of evolving requirements while invariably staying aligned and on schedule.
Product development teams must keep up with the complex nature of requirement analysis, development, testing, and risk management. For the SDLC to be seamless and successful, all activities must work together — continuously, at scale, and across teams.
As a reliable and codeless AI test automation tool, ACCELQ is all you need to stay ahead of the rapid changes and iterations and maintain the highest level of software quality.
Related Posts