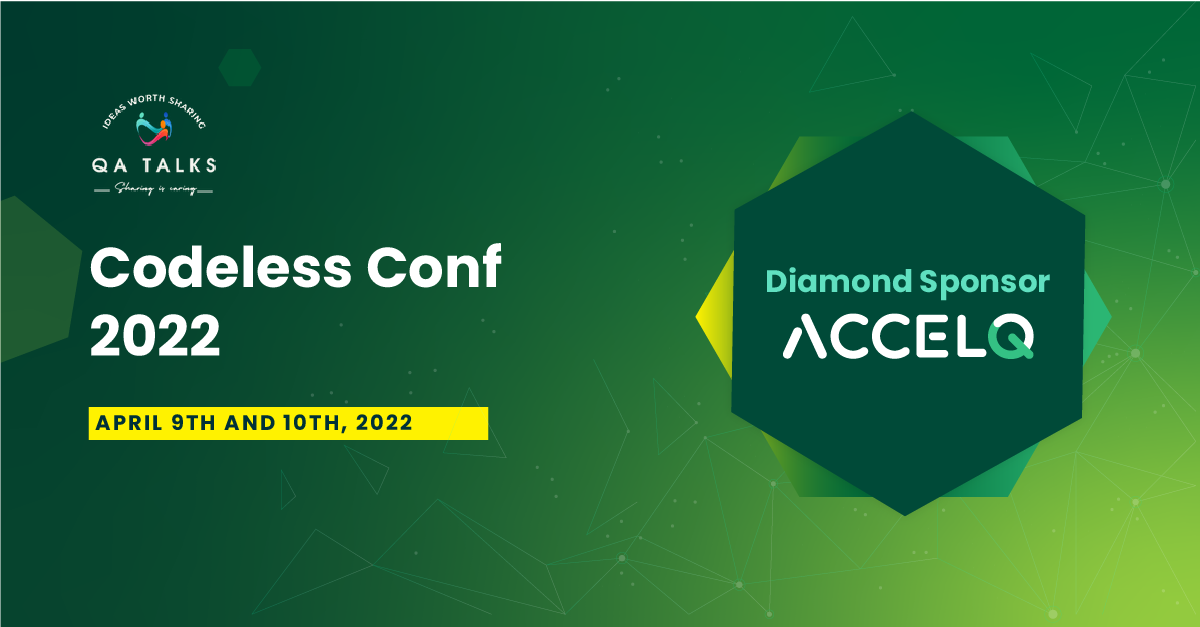 ACCELQ Diamond Sponsor for Codeless Conf 2022!
We at ACCELQ are proud to be Diamond sponsors at Codeless Conf, a two-day online conference happening on April 9th and 10th, 2022, by QA Talks Community.
We are thankful to the QA Talks community for the partnership at this virtual conference which will cover a range of topics from Codeless automation, the latest cutting-edge technologies in Test Automation, QA best practices, and lots more.
The conference will also have ACCELQ Speakers talk on insightful topics.
Avinash Chavan, Client Principal at ACCELQ, will do a presentation on "Accelerate Salesforce Implementation with the AI-powered Codeless Automation."
Watch the recording
Geosley Andrades, Product Evangelist at ACCELQ, will conduct a workshop on "Unified Test Automation to accelerate Continuous Delivery."
Watch the recording
Guljeet Nagpaul, CPO at ACCELQ, will join the leadership panel discussion on "Is Codeless automation the next wave?"
Watch the recording

Visit the Codeless Conf page to know more about the conference, diverse topics, and other stellar speakers.
Become a Codeless Automation Pro. Register for FREE here.