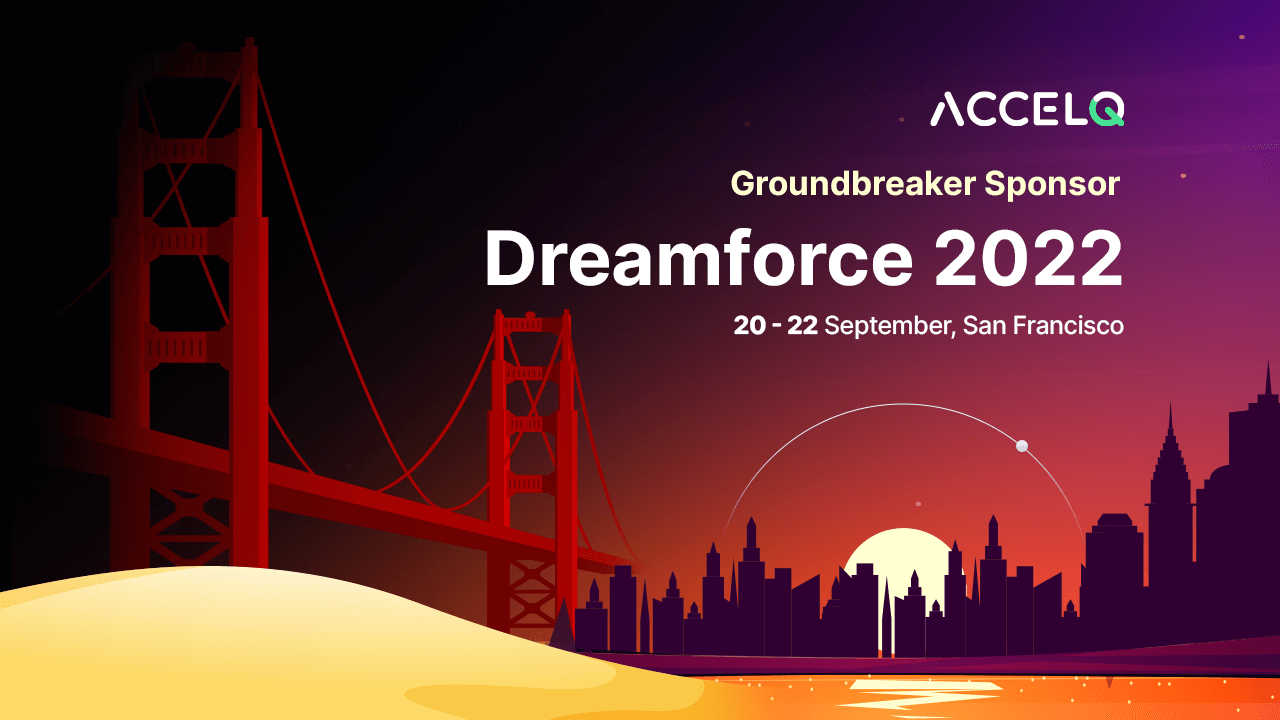 Posted On: 12 August 2022
Dreamforce 2022 is back - the world's largest software conference with a healthy dose of magic. ACCELQ is proud to be Groundbreaker Sponsor for the Dreamforce conference in San Francisco from September 20-22.
As Dreamforce celebrates its 20 years, this will be the first chance in almost three years to take advantage of the in-person experience that makes Dreamforce such a valuable event.
Join in for loads of hands-on learning opportunities, endless moments to network and connect with peers to find breakthrough solutions, and tons of business insights to bring back to your company.
We at ACCELQ, an official Salesforce ISV partner and on Salesforce App Exchange, are delighted to interact with thought leaders, visionaries, and Salesforce experts to drive their success and innovation.
We will be having two enlightening theatre sessions at the campground details are below -
Theatre Session #1
Test Automation of Wells Fargo Integrated Apps with ACCELQ
20 Sep | Platform Theatre | 2 pm PDT
---
Frequent releases coupled with Salesforce updates need a seamless testing strategy powered by automation. Learn how ACCELQ has proven to streamline release validations for complex integrated apps.
Speakers

Venkatesh Yenugula
Principal Engineer and Technology Leader
Wells Fargo

Guljeet Nagpaul
Chief Product & Strategy
ACCELQ
Theatre Session #2
Testing Custom Apps like nCino, Vlocity (Industries) & More
21 Sep | Theatre 2 | 3.30 pm PDT
---
Salesforce apps like nCino have heavily customized objects & UI, which can make automation challenging. Learn how ACCELQ has accelerated testing with a seamless no-code approach & real-time release alignment.
Speakers

Chris Fernandez
Associate Director QE
nCino

Guljeet Nagpaul
Chief Product & Strategy
ACCELQ
Don't forget to visit us at the ACCELQ Booth No. 1319 to learn how you can make your test automation lightning-fast and easy, just like Salesforce.
Stop by our booth to say "Hi" and grab some cool swags.
BOOK A TIME WITH US