Attaining test automation at scale is the key to advancing towards a continuous deployment release cycle. But testing has become even more complicated. Writing hundreds of lines of code for test automation is a time-consuming and laborious process for even the most profoundly skilled Software Development Engineer in Test. Learning and mastering this skill isn't a subject of days or hours but demands untold time, effort, and hard work, and thus it is not feasible for every tier of developers to work on these tools. This eventually defeats the entire idea of automation testing, which aimed to reduce testing times and testing resources.
We needed a tool that can quickly test in a Continuous Integrated and Development environment without having to code a word. Creating test cases that do not require coding saves time significantly and ensures bug-free and efficient product releases. Nevertheless, with the development of No-Code Automation Tools, that problem is solved. No-Code Test Automation has made it possible for everyone, starting from a newbie to a programming geek. The No-Code Test Automation tools also make everyone's lives effortless.
What is No-Code Automated Testing?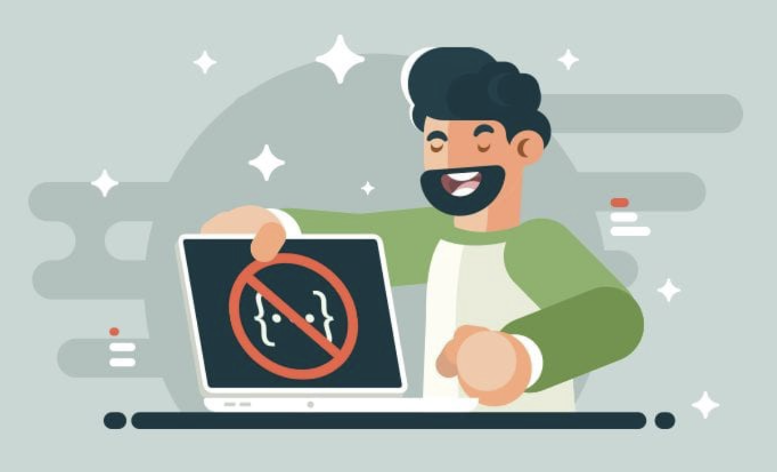 Testing with no requirement for the tester to write a single code is called No-Code Automated testing. This kind of testing has been advancing with its new revolutionary ideas in technology. The sole motive of this is to bring down the efforts needed for coding and build it which is more user-friendly. The end goal is to construct a setup that makes automating a test scenario look effortless and reducing the required time for the testing.
How does No-Code Testing Work?
The fundamental need for true no-code test automation is that the test creation should not require a single word to be coded. There are many approaches to No-Code testing. The two notable ones are recording manual tests and playing it back and converting front-end representation to machine understandable code in the backend.
In a record and play approach, the tester manually performs the test, and the tool records every click. Later the tool creates scripts to automate the test entirely. The tester can modify the scripts and the testing process according to their requirements. In the other approach, the test cases are written in simple English language via Natural Language Programming (NLP). These statements are then transformed into code in the backend for execution.
Why should Businesses leverage No-Code Automated Mobile Testing?
Today, there are various mobile applications in the market; that's why app ratings and reviews matter a lot for a new user to download the specific mobile application. Hence, it is imperative to automate the testing of mobile applications in the development phase itself, i.e., before delivering, to ensure a smooth user experience. There are various tools that can automate the testing of the mobile application to ensure a flawless application.
1.No coding Required
QA Engineers no longer need to spend time writing thousands of lines of code and gain expertise in managing complex test scripts. Instead, they can record and automate user-like behavior or write in natural language, which will then be converted to code by the tool.
2.Match the pace of the development cycle
QA Engineers can start automating features as soon as the UI is developed without wasting time going through complex coding practices and frameworks. Therefore, the testing team will be easily able to keep pace with the development team.
3.Reliability
When the testing team no longer has to spend time coding complex test scripts, they will have more room to focus on analyzing edge cases. Furthermore, it increases the product's functionality and provides a seamless user experience.
4.Cost Efficiency
With the use of a true no-code testing platform, we do not require highly skilled testing developers; hence it is a very cost-effective solution.
5.Easy Maintenance
Earlier, if there was any change in the UI or any change in functionality, the testing scripts had to be changed and consumed a lot of time. A codeless testing tool handles all these changes by itself; the testers require no effort.
6.Cross-Browser and Cross-Platform Testing
When we require our product to be tested across various browsers and platforms, an excellent No-Code test automation tool comprises all of these features.
7.User-Friendly
Programming skills are essential for code-based testing tools, which are very tricky and complicated. In contrast, a true no-code test automation platform has a self-explanatory user interface. Thus, making the testing process smooth and efficient.
And many more advantages like a No-Code test automation tool has self-healing with machine learning and AI, connects easily to continuous integration and Cloud platform quickly, and even provides ease of documentation of processes and change.
There are so many No-Code test automation tools available in the market. Your choice of the solution may depend on whether you want to make scripted tests easier to create and maintain or remove the coding responsibility entirely.
Companies should prioritize their needs when making a decision. And make sure with the help of a codeless test automation tool, the company can scale, deliver effective test execution, help evolve the existing automated test suites and provide ease of use.
Why ACCELQ?
ACCELQ is the most powerful AI-based Unified platform for Continuous Delivery, Full Stack Automation, and Test Management. ACCELQ can automate web, mainframes, desktops, and many other various applications utilizing minimum time and efforts to increase the speed of the testing cycle. ACCELQ also draws special attention from testing and Agile teams with its Natural English Coding and Self-Training Capabilities. It can be integrated with most of the DevOps and Quality tools to provide a unified view of the complete Quality Engineering lifecycle.

ACCELQ is a true no-code Mobile Test Automation Platform that Automates and Executes Tests across all OS and Devices.
The user can design, develop and execute mobile test automation with zero setups and no coding.
Integrate along with Device Cloud Labs for cross-device testing in Plug & Play model.
Features of ACCELQ
Persuasive & intelligent Mobile element identification technology.
The combined approach with a central object repository for iOS & Android.
No coding is needed, no matter how complex and dynamic the mobile app is.
Algorithmic formation of element selectors for robust & maintainable automation.
Self-healing element identification drastically enhances reliability.

Advantages of ACCELQ
Test asset control & inbuilt traceability with conditions.
A reasonable Version Control, branching & merging all in a unified
Collaborative cloud platform.
ACCELQ's app universe and analytics-based algorithms drive automated Test
Planning ensuring coverage.
Referential integrity across test assets hugely reduces maintenance and upkeep.
Automated Change impact analysis and alert management.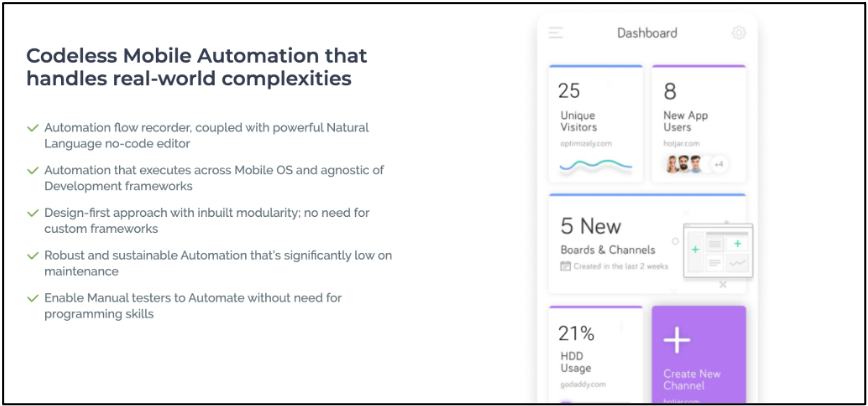 Getting these many features and having so many advantages under one platform makes ACCELQ the number one platform for No-Code testing. This is the best deal anyone could get. You have found the hidden gem of No-Code testing.
This Might Also Interest You...