What is nCino? And What are the Challenges in Automating nCino?

Posted On: 18 November 2022
In an era where customer and employee expectations constantly change, speed, convenience, and trust matter most. For banking organizations, this means adopting the right technology innovations to meet these expectations while improving business process efficiency.
nCino empowers banks with an array of modern cloud-based capabilities that aid in transforming their business while delivering true ROI for themselves and their customers. As a powerful and comprehensive cloud-based solution, nCino helps address common banking challenges and capitalize on new opportunities.
However, successful deployment of nCino doesn't just end at implementation. Banks also have to constantly test the platform to ensure it delivers expected results and keeps up with the promises. Therefore, test automation is a critical requirement. But, the challenges of automating nCino restrict businesses from carrying out end-to-end testing.
As a cloud-based banking operating system, nCino enables banking organizations to operate in today's competitive banking landscape and keep up with evolving customer and employee expectations.
In essence, the platform helps streamline banking operations, allowing banks to deliver personalized experiences. It improves efficiency, transparency, profitability, and regulatory compliance across all lines of business.
Built by bankers for bankers, nCino simplifies customer and employee interactions via a single cloud-based Bank Operating System. The unified platform helps in:
Increasing account opening rates
Decreasing loan closing time
Improving business efficiency
Reducing data entry efforts, and
Bringing delinquency rates down
Do more with Test Automation
Discover more ways to add 'low-code no-code' test automation in your workflows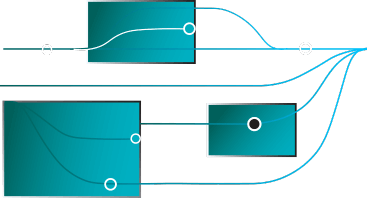 What Are the Benefits of nCino?
An end-to-end banking platform, nCino helps banks simplify workflows and boost operational resilience. As a result, banks can deliver better services to customers. Using nCino's transformative capabilities, banking organizations can:
Streamline commercial banking processes right from customer onboarding to loan origination, credit analysis, document and portfolio management, and more.
Simplify the mortgage experience by bringing financial institutions, third parties, and borrowers on a single platform.
Eliminate time-consuming manual and repetitive paper-based activities, reduce the time taken to open accounts, and enable lending.
Integrate front, middle, and back-office operations, reducing overall turnaround time for credit delivery and improving credit and risk assessments.
Why Do Organizations Need to Enable nCino Test Automation?
Given how powerful the nCino platform is, banking organizations across the globe are increasingly adopting the cloud-based banking solution to automate tasks, integrate business processes, and improve customer experiences. However, since every organization has different needs, nCino is used in different ways to accomplish different goals. While many use the platform out-of-the-box, others carry out a series of customizations to fit their business case.
Since every implementation and customization is unique, testing the platform and verifying if it delivers the digital experiences that customers demand is critical. But manual approaches to testing do not match the speed of business agility.
With the need for new features and capabilities to be constantly leveraged, it becomes crucial for organizations to embrace nCino test automation to achieve a high-quality solution at an accelerated speed.
nCino test automation enables organizations to:
Ensure their nCino platform is working properly and that all issues and concerns are resolved in time.
Align nCino implementation with the latest releases for smooth upgrades and updates.
Seamlessly manage the dynamic technology components and enable automation of the UI and API.
Effective test core business processes and objects and release new and improved features with accelerated velocity.
Ensure new updates and changes are thoroughly tested and aligned with the CI/CD pipeline.
Test not just their nCino environment but also its integration with other systems and business processes across the technology stack.
Carry out end-to-end data validation and user acceptance testing across different browsers and operating systems.
Get a comprehensive, hands-on view of the overall availability, performance, functionality, and security of the nCino platform.
nCino Test Automation Challenges
Although nCino test automation is critical to ensure the right implementation, automating nCino comes with its own set of challenges.
The different dynamic elements of nCino make test automation a real hurdle.
Isolating the different UI components for testing is not easy.
Frequent updates and release changes demand continuous and rigorous test automation.
In the absence of the right team or the right tools, testing every component of nCino while sticking to a rigid test schedule becomes tough.
Ensuring test automation and nCino release alignment walk hand in hand is not without challenges.
Writing test automation cases in a way that aligns with system updates further adds to testing complexity.
The dependence on code-based test automation delays testing outcomes and requires the expertise of skilled testers who are hard to find.
Automating security testing is another challenge as testers must constantly test different configurations on evolving aspects of security, compliance, and risk management.
Since any changes made to the platform means changed code, every such code change has to be tested thoroughly and continuously.
Testing nCino integration with third-party applications to evaluate integration robustness is also challenging as testers have to take different databases, platforms, and environments into account.
As an official nCino partner and a leader in nCino test automation, ACCELQ can ensure timely and accurate release alignment. We bring with us years of experience and competence in robust codeless test automation, ensuring smooth nCino implementations and ongoing upgrades. Our AI-driven, ready-to-go, fully automated test capabilities on the cloud are optimized for nCino and are ideal for automating nCino custom Lightning web components.
Through efficient nCino test automation, ACCELQ helps organizations with high-quality testing at an accelerated speed and has the depth to handle automation of end-to-end business processes across technology stacks. Just like nCino, ACCELQ is on the cloud and offers an array of plug-n-play options to enable seamless testing across your nCino environments. The ACCELQ nCino live Universe comprises all core business processes and ensures all objects are fully automated.
If you want to ensure the safety of your cloud banking environment, mature your automation testing with in-sprint nCino test automation and align it with your CI/CD pipeline. Contact us today to learn more.