A Beginner's Guide To Salesforce Testing

As Salesforce becomes one of the most popular enterprise platforms globally, the need for rich and continuous Salesforce testing has become highly critical. Yet, many organizations continue to overlook Salesforce QA. And, this causes several defects to seep into production, impacting users' overall experience with the platform.
If you want to ensure your Salesforce solution works to its maximum capacity, you need to undertake the task of Salesforce testing.
What is Salesforce testing?
With Salesforce applications driving significant impact in today's world, constantly testing the various features is essential to ensure the best user experiences. Salesforce testing enables organizations to use modern test methodologies and tools to test Salesforce applications. Hence, providing 100% test coverage within each test cycle.
With a clear perspective on out-of-the-box features and customizations that are being built, Salesforce testing allows testers to test the platform in a Sandbox environment while carrying out a series of UI, functional, integration, and system testing. In addition, such thorough testing using functional flows can aid in testing the complete functionality of the Salesforce application, thus validating the configuration and customization of features in vanilla SDFC.
Why do you need Salesforce QA?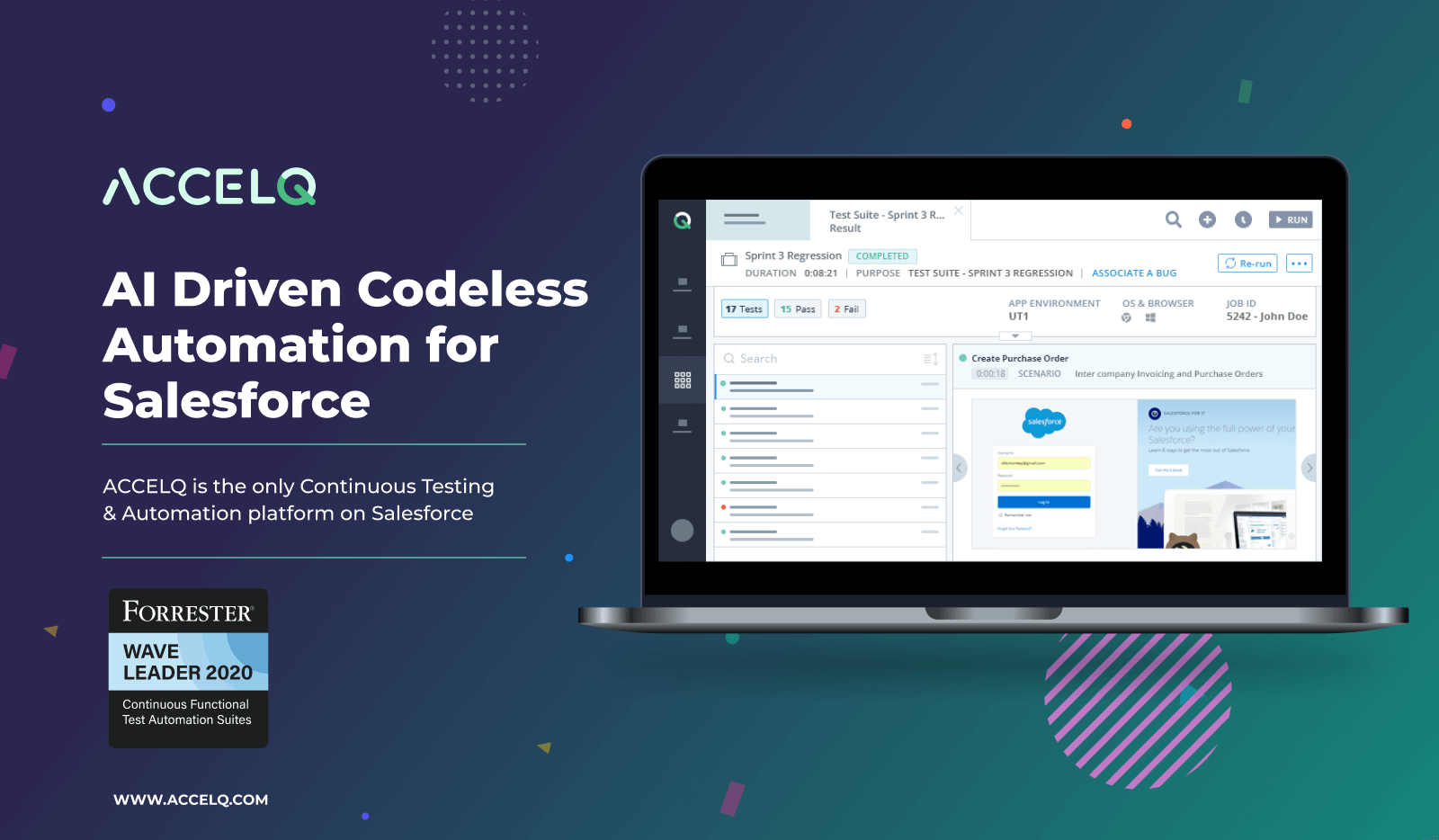 Salesforce QA is needed to ensure that all the features and capabilities of the platform function as intended. It must also enable organizations to manage their relationships with prospects and customers easily.
In addition, Salesforce QA allows testers to:
Thoroughly and continuously ensure Salesforce configuration and code are functional.
Enable end-to-end Salesforce process validations and check the functionality of time-based events.
Verify the platform is capable of supporting and sustaining business processes.
Detect issues and bugs early in the lifecycle when they are more manageable and less costly to fix.
Constantly verify functional flows and check the working condition and behavior of the platform.
Enable seamless integration with other applications in the stack, thus providing a unified view of the quality lifecycle.
Top tips for Salesforce automated testing
Continuously testing all Salesforce features manually while keeping the timeline and budget considerations in mind might not always be possible. However, enabling Salesforce automated testing can open doors to several benefits such as increased test coverage, quick bug detection, reduced testing efforts expenses, and enhanced productivity and efficiency – that eventually help achieve a high ROI.
If you want to leverage all these benefits, it is important that you:
Have a mechanism in place to adapt to frequent updates. With the Salesforce platform constantly evolving, tool needs to make sure your automated tests cover all its changes.
Use Salesforce tools that allow for seamless testing of complex Salesforce components. If you are relying on code-based solutions for testing components like Shadow DOM, it can be difficult. Rather opt for low-code/no-code tools that support such testing natively.
Have robust version and change management policies and practices in place. This ensures any change you make to the platform is properly documented – and in time. Such techniques can also provide the flexibility to roll back to a previous version if needed.
Opt for codeless test automation to accelerate the Salesforce QA process and deliver a smooth user experience despite changes and updates. Leverage ready-to-use test automation tests – with zero coding – and reduce test automation effort while improving test cycle speed.
Why choose ACCELQ for SFDC testing?
As the only Continuous Testing and Automation platform on Salesforce, ACCELQ is a leader in Salesforce Test Automation. ACCELQ empowers organizations with all the resources, tools, and expertise needed to ensure high-quality testing across all aspects of the Salesforce platform.
Here are some reasons why you should choose ACCELQ for SFDC testing:
Ensures Salesforce Release Alignment
Being an ISV partner, ACCELQ is always abreast with the latest in the world of Salesforce while being aligned to all the Salesforce releases. Such alignment enables organizations to enjoy smooth and seamless Salesforce upgrades with robust Automation Testing tools and frameworks.
Enables codeless Salesforce automation
ACCELQ offers codeless, AI-driven test automation on the cloud that is optimized for Salesforce-specific Dynamic technology. Leveraging ready-to-use test automation tools, we can help you adapt to frequent configuration changes in your Salesforce implementations while seamlessly handling Salesforce-specific elements – with zero technical complexities.
Offers seamless Support for Salesforce Technology Stack
ACCELQ can provide complete visibility on the quality of your Salesforce implementation. Using the Salesforce Content Pack, you can drive 3X faster test cycles, significantly lower cost of quality, and enjoy up to 70% lower effort on Test Automation
Leverages ready-to-go Fully Automated tests
Our ready-to-go, fully automated tests align perfectly with ongoing Salesforce release changes and updates, allowing you to make the most of several plug-and-play components to test across your Salesforce environments as well as core business processes.
Fits perfectly into the existing ecosystem
ACCELQ fits right into the existing ecosystem of tools and processes to drive unmatched efficiencies across the testing lifecycle. By offering the top tier of test automation suites for modern testers and aligning perfectly with Continuous Delivery, ACCELQ delivers the necessary support for diverse technology stacks and end-to-end Salesforce process validations.
In today's era of agile testing, testing teams need to be highly efficient and productive. This helps them drive quick results – without compromising on quality. In addition, as Salesforce adoption grows, testing the platform at regular intervals becomes essential. It ensures that existing features are working fine and that new features are working in perfect harmony with them.
Suppose you want to mature your Salesforce automation testing and quickly transition to true continuous test automation. In that case, you need to embrace the world of Salesforce QA testing and drive transformative results by shifting left and enabling in-sprint automation
Director, Product Evangelist at ACCELQ.
Geosley is a Test Automation Evangelist and Community builder at ACCELQ. Being passionate about continuous learning, Geosley helps ACCELQ with innovative solutions to transform test automation to be simpler, more reliable, and sustainable for the real world.