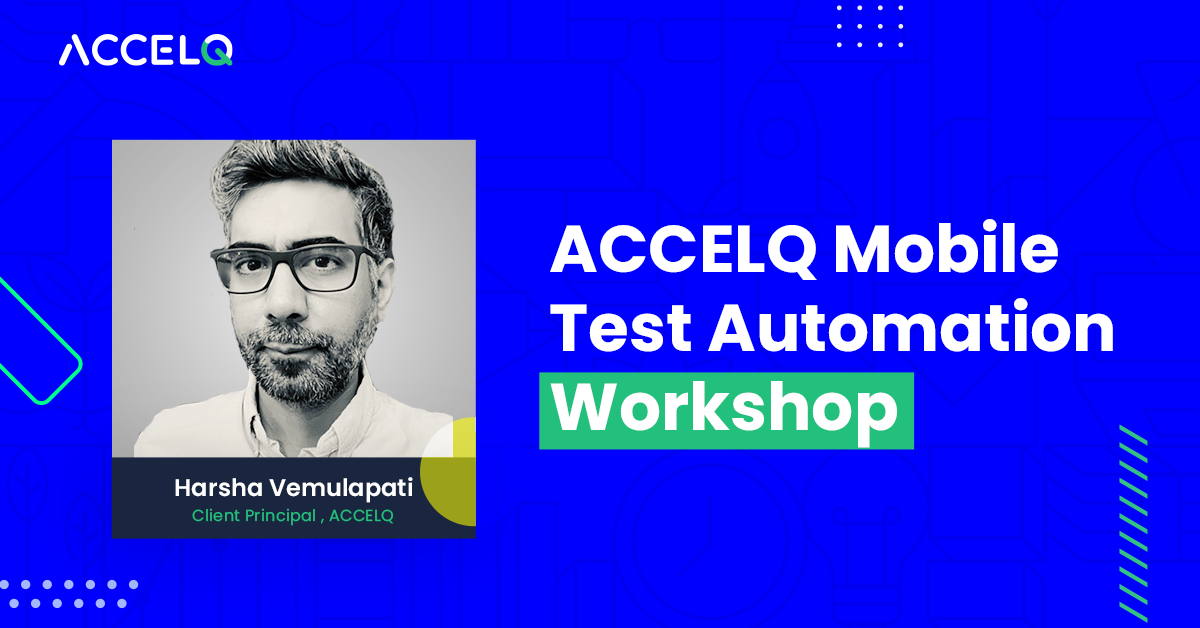 ACCELQ Mobile Test Automation Workshop by Harsha Vemulapati
Thursday, 15 Jul | 8-10 am PST ~ 8.30-10.30 pm IST
Testers who are new to the mobile automation world or who wish to learn mobile automation.
Tester of any experience who wants to learn mobile automation with hands-on exercises.
Any Tester looking to learn more about no-code and how mobile automation can be achieved in no-code paradigm.
Anyone intending to extend their skill set to do Mobile automation.
Learn how easily you can develop Mobile automation with the power of the No Code AI platform.
Design, develop and execute mobile test automation with zero setup and coding
Sneak peek into how ACCELQ is different from other traditional frameworks
Know about other exciting features released as part of ACCELQ 5.0
Automate a basic workflow of a mobile application.
Build and manage tests for both Android and IOS
Integrate test execution with cloud-based device provider.
How to connect a local device to run your automation
Integration and defect logging with JIRA
Versioning and Branching capabilities
Full-stack automation in the same workflow to also include Web, API, and backend.
About the Speaker – Harsha Vemulapati

Harsha is a passionate data nerd with diverse professional experiences across functions including business analysis, marketing, product management and client solutions. Harsha has been working with ACCELQ for the last two years as a Client Principal where he assists customers with evaluations, training and implementations. What Harsha loves to do most is to understand the world a little more every day, deconstruct ideas, and help people to thrive with knowledge. Harsha holds a Master's degree in Information Technology.
Explore Our Exciting Product Features
Focus on Business Process
A visual blueprint of your application which becomes the center of universe, driving entire Quality lifecycle.
API Testing
Ensure 360° quality coverage by seamlessly embedding critical server-side API validations along with your front-end testing.
Continuous Action Dashboard
Enable agile delivery with Continuous Action Dashboard which provides an integrated view of the entire SDLC status.
Automate the Automation
Automation in an integral aspect of test authoring in ACCELQ. Develop scripts in plain, natural English.
Change Bot
Manage test assets across multiple revisions of application-under-test with the Smart View Analyzer.
Integrated Data Designer
Capture the structure of test data based on business semantics. Test case generation is automated.