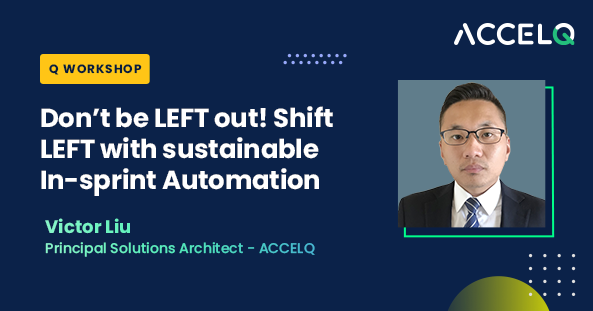 Don't be LEFT out! Shift LEFT with sustainable In-sprint Automation
Thursday, 21 october | 8-9 am PST ~ 8.30-9.30 pm IST
In-sprint automation is an endeavour for many QA organizations in this age of continuous delivery. While the benefits are undeniable, the path to a sustainable in-sprint automation could be tricky. With many dependencies on the Application readiness and underlying deployment infrastructure, even a small hurdle along the way can derail the process. Therefore, every minor detail and resource dependency must be accounted for, and at the same time, an efficient reconciliation process must be in place. This workshop is a practitioner's view to setting up and sustaining an in-sprint automation setup.
Software testers for an understanding of practical approaches to achieving in-sprint automation.
QA Managers and Test Leads considering adapting continuous testing practices and shift-left in their automation strategy.
Practitioners for insights into best practices and tips for enhancing the sustainability of in-sprint automation.
IT teams in general, to understand ways to improve feedback cycle on incremental deliverables.
Why should one Attend?
Learn how to achieve a dependable level of automation during new-feature development.
Improve collaboration between team members to achieve faster releases.
Understand effective ways to integrate automation in DevOps cycle.
Give your development teams an edge in identifying bugs early in the cycle and provide responsive feedback during the sprint.
Learn how Test Design should be the focus, not the automation programming complexity.
Workshop Overview
Understanding of in-sprint automation, benefits and challenges
Discussion on "sustainability" vs. one-time magic and why maintainability should be a day-1 consideration.
Setting up an effective test automation strategy using In sprint Automation and accelerate development velocity with hands-on exercises.
Master In-sprint automation by adopting the right mix of UI and API test automation in the same unified workflow.
Sample walk through of achieving complex validations in an in-sprint setup.
About the Speaker – Victor Liu
Vic is a Principal Solutions Architect at ACCELQ, helping clients navigate their journey to a sustainable and reliable automation. With over a decade of experience working as a consultant, architect, and product owner, his mission is to guide organizations, large and small, towards success and bring their goals and aspirations closer to fruition. Using a dash of humor and a heap of passion, he hopes to etch his personal style on every interaction, whether it being a casual conversation or a substantive discussion.
Trusted by Enterprises across Industry Verticals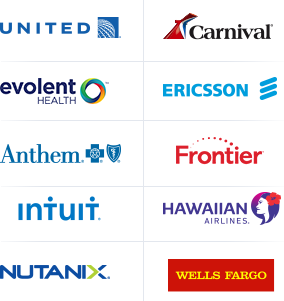 Explore Our Exciting Product Features
Focus on Business Process
A visual blueprint of your application which becomes the center of universe, driving entire Quality lifecycle.
API Testing
Ensure 360° quality coverage by seamlessly embedding critical server-side API validations along with your front-end testing.
Continuous Action Dashboard
Enable agile delivery with Continuous Action Dashboard which provides an integrated view of the entire SDLC status.
Automate the Automation
Automation in an integral aspect of test authoring in ACCELQ. Develop scripts in plain, natural English.
Change Bot
Manage test assets across multiple revisions of application-under-test with the Smart View Analyzer.
Integrated Data Designer
Capture the structure of test data based on business semantics. Test case generation is automated.