We are excited to announce that ACCELQ will be the Gold Sponsor for the prestigious Testing Talks Conference in Melbourne! As Gold Sponsor, we are thrilled to be a part of this exciting conference and look forward for a day full of insightful discussions, networking, and exploring the latest trends in software testing Thursday, 12th October 2023.
Event Details:
Date: Thursday, 12th October 2023
Time: 8:00 am – 7:30 pm
Location: Melbourne Convention Exhibition Center
Address: 1 Convention Centre Pl, South Wharf VIC 3006
Booth Location: Game Zone Area (Clarendon Balcony)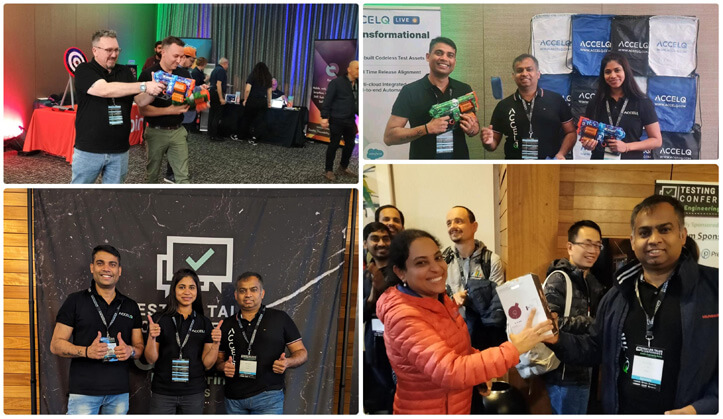 What a blast we had Testing Talks Conferences Sydney earlier this year. Our Team was delighted to share valuable testing insights, network, have fun and engage with all the testing community in Sydney. The enthusiasm and energy you brought were truly inspiring. And so we are back with our Booth at the Testing Talks Conferences in Melbourne!
The Testing Talks Conference is a premier event in the software testing community, bringing together industry experts, thought leaders and enthusiasts to share their knowledge and experiences.
What's Special?
A highlight of the conference will be the panel discussion on "Testing Triumphs: Strategies for Winning the Battle," starting at 1:00 pm. We are proud to have Shriram Krishnan, a distinguished expert from ACCELQ, as one of the esteemed panelists. Shriram will share valuable insights and strategies for achieving success in testing projects, making it an unmissable session for all attendees.
Don't miss this exceptional opportunity to connect with industry peers and explore cutting-edge trends in the world of software testing. Visit our Booth in Game Zone Area (Clarendon Balcony) and gain valuable insights on ACCELQ and its unmatchable software testing capabilities.
Register now and secure your spot for a day filled with innovation, learning, and great connections. We look forward to seeing you there!