MS Dynamics 365 Test Automation: A Comprehensive Guide

Have you ever wondered why there is an increased demand for Microsoft Dynamics 365 test automation today?
The primary reason is that the platform is finding more takers globally as businesses attempt to deliver fulfilling experiences for customers to remain competitive.
The MS Dynamics service market is estimated to grow to a record USD 11.24 billion in the CRM space by 2026. As it becomes a key pillar of business growth and customer experience, the question of why test Dynamics 365 has even more relevance.
In this blog, we will talk about
What is MS Dynamics test automation?
As MS Dynamics 365 becomes an integral part of business growth, it is vital to ensure it works well in all situations that leverage the platform. This is where MS Dynamics test automation makes its importance felt. In simple terms, MS Dynamics test automation can be explained as the set of practices involved in end-to-end automation of test activities for every release in a Dynamics 365 implementation. It includes generation of test data, thorough testing of all application components and use-cases, creating reusable test artifacts, and using automated testing tools to systematically improve and assure the quality of the entire MS Dynamics 365 application ecosystem within the business.
Naturally, several enterprise leaders will question "Why test Dynamics 365" in their minds. The answer is two-fold.
One deals with the complexity and scale of a Dynamics 365 implementation. Dynamics 365 is a large enterprise tool and has a sizable scope of use in a wide variety of business operations. This results in many other core business systems integrated into the Dynamics 365 platform to ensure seamless information exchange and smooth end-to-end digital excellence. However, the complexity and scale mean that there are several areas where minor vulnerabilities and bugs can create disruptive problems. Especially in a highly integrated ecosystem of business applications. Thus, testing the Dynamics 365 platform has high importance.
The second aspect is the criticality of the platform from a business perspective. Dynamics 365 will be used by the business to deal with their most significant asset – customers. Any let-down in quality or reliability will adversely affect their business prospects and can drive away customers to competitors. Thus, it is essential to ensure the end-to-end quality of Dynamics 365 implementations. This dual-prone perspective should throw light into the question of "Why test Dynamics 365?" and enterprise leaders can make a note of the same.
The challenges faced when testing your Microsoft Dynamics 365 platform
One of the biggest challenges faced when testing the Microsoft Dynamics 365 platform is the expansive list of items that must be covered through automation.
The number of test assets that must be managed is so huge that it requires intelligent test planning that caters to both risk-based and defect-based approaches.
Thanks to Microsoft's ongoing quest for innovation, MS Dynamics 365 has periodic updates and version changes.
From an enterprise perspective, they will have new custom feature requirements that must be compatible with new releases and updates. This can add to the challenges faced when testing your Microsoft Dynamics 365 platform.
The application flow of Dynamics 365 will require a lot of reusable assets if it is to be completely covered under the scope of MS Dynamics test automation.
Do more with Test Automation
Discover more ways to add 'low-code no-code' test automation in your workflows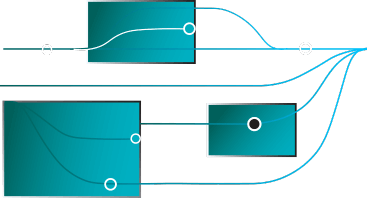 Best practices for testing Microsoft Dynamics 365
As explained earlier, MS Dynamics can be a complex solution from a technical perspective. But it doesn't mean that it is always hard to perform Dynamics testing seamlessly. Therefore, to succeed in the journey, enterprises must follow some best practices for testing Microsoft Dynamics 365.
Some of the key ones are:
Leverage an intelligent automation platform that enables UI-based test automation for better results.
Learn how to re-use test assets diligently to save more time and effort in the long run.
Prioritize automation journeys to cover simpler processes first and then navigate more complex ones.
Enable seamless collaboration between different stakeholders and teams that rely on the tool Dynamics 365 for their needs.
How to test Dynamics 365 with a no-code tool
By now, MS Dynamics test automation may sound very challenging and confusing for several enterprise leaders. However, it is not a Herculean job if they are aware of testing Dynamics 365 with a no-code tool. The benefits are numerous, and enterprise leaders can have peace of mind with their test automation initiatives.
Some of the significant benefits of learning how to test Dynamics 365 with a no-code tool are
Visual-based test model that aligns seamlessly with the core Dynamics 365 platform for seamless operability.
Faster test case development.
Lower maintenance with easier dependency management during version upgrades or periodic releases of the product.
Ability to leverage reusable test assets that are specific for most Dynamics functionality or usage scenarios to lower test effort and cost
What the future holds for MS Dynamics test automation
Now that there is enough information about the concept, it is time to discuss the future of automated Dynamics testing. We have seen how being diligent and using intelligent test automation tools can iron out inefficiencies. And the best part is it significantly improves test results. Enterprises need to invest in onboarding the right people with MS Dynamics test automation skills. Alongside empowering them with powerful test automation platforms like ACCELQ. This state-of-the-art AI-based codeless platform seamlessly captures all facets of MS Dynamics test automation. It can serve as a single-point destination for enterprises to manage their end-to-end MS Dynamics test initiatives.
Get in touch with us to explore more about ACCELQ and how it can help you drive the most out of your MS Dynamics implementation at low risk.
Director, Product Evangelist at ACCELQ.
Geosley is a Test Automation Evangelist and Community builder at ACCELQ. Being passionate about continuous learning, Geosley helps ACCELQ with innovative solutions to transform test automation to be simpler, more reliable, and sustainable for the real world.
Discover More