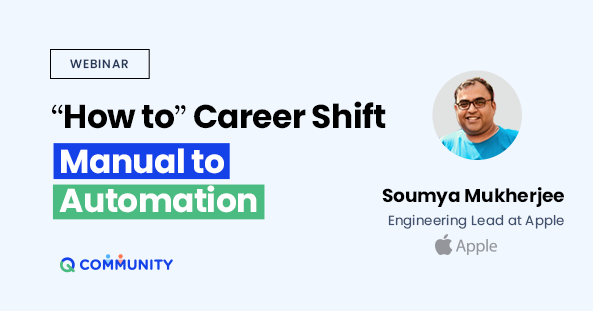 "How to" Career Shift – Manual to Automation by
Soumya Mukherjee
Saturday, 14 Aug | 8 am PST | 8.30 pm IST
We are super excited as we are kick starting another interesting initiative in the form of Q Webinars. In this episode of Q Webinars, we are hosting the amazing Soumya Mukherjee who would be guiding the community on "How to Career shift from Manual to Automation".
Let's know more. As a Tester, what do you see around? A crazy rush and affection towards Automation, right? While most of the Testers are thinking about learning Automation or transitioning towards Automation, is there enough guidance out to make sure the learning and transitioning happen properly? We understand that you all do not want to be left behind in this massive upskilling and adaption rush around Automation, and at the same time, you want to do it right.
We also understand that we all need guidance, validation, and hard questions to navigate the careers/streams. That's precisely what Soumya is bringing to the table with us through this Webinar.
In this session, we will look into various patterns in the individual that refrain them from doing the transition, and they get stuck in the process. We would also see the key techniques anyone can do to make that transition from Manual to Automation.
Know the key patterns which individuals should refrain from doing.
What are the steps that individuals should take to become highly successful in this transition.
What should an individual do when they are stuck.
About the Speaker – Soumya Mukherjee
Having a decade and a half of experience doing intelligent automation with various tools and tech stack developed products, executed large transformation programs, applied machine learning concepts in QA. Expertise in reducing cycle time for organizations with effective use of resources. Passionate about developing solutions to exciting problems in applied reliability engineering. Love to help others, solve complex problems, and passionate to share experience, failure & success stories with folks. Authored books on selenium published by Tata McGraw-Hill's & Amazon. A father of a lovely daughter.
About 
Q Community aims to build and serve a community of Test Automation enthusiasts with a primary objective to find and nurture ways to transform test automation to be simpler, more reliable, and sustainable for the real world. Our vision is to drive community initiatives to make Automation easily accessible to the project teams and eliminate traditional skill-based silos within organizations. Keeping in line with the latest trends in the technology space, No-Code is explored as one of the primary means to achieve this objective.