Where Testing and Wildlife Magic Combine! – A memorable experience that will make you happier every time you reminisce.
Roaring with excitement, EuroSTAR Conference 2023 is calling all testing enthusiasts to join at the magnificent Antwerp Zoo in Belgium from 13th to 16th June. Get ready to unleash your testing prowess in an awe-inspiring setting that blends the world of software testing with the wonders of wildlife.
EuroSTAR Conference, renowned as Europe's premier testing event, is a vibrant hub where the testing community unites, collaborates, and propels the industry forward. With a decades-long legacy, Eurostar has consistently delivered unparalleled learning, networking, and inspiration to professionals worldwide.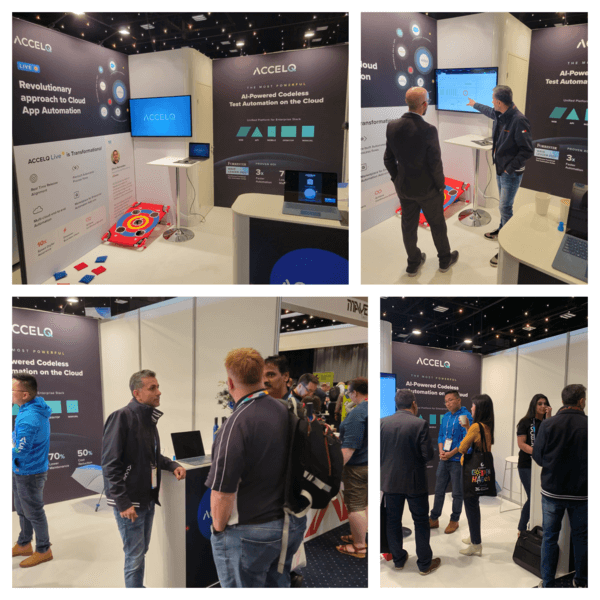 And you know what the best part is? – ACCELQ is all set to exhibit again
at the EuroSTAR 2023.
A Look Back at EuroSTAR 2022:
In 2022, EuroSTAR Conference in Copenhagen proved to be an incredible success. ACCELQ's booth became a hub of excitement, attracting hundreds of visitors eager to explore our exceptional test automation capabilities and integrate them into their businesses. Our team of experts provided impeccable solutions and answered visitors' queries, creating a truly unforgettable experience.
ACCELQ at EuroSTAR 2023: Elevating Testing Excellence
We are thrilled to announce that ACCELQ is all set to exhibit once again at EuroSTAR 2023. As proud exhibitors, we are preparing to showcase our latest testing innovations, futuristic methodologies, and visionary solutions. Brace yourself for an immersive experience as we unveil our unrivaled automation capabilities with ACCELQ Live for Package Apps, seamless integrations, and game-changing workflows with ACCELQ Skybolt 6.0 using the new AiRecorder to propel your testing endeavors to extraordinary heights.
Pack your bags, unleash your inner explorer, and journey with ACCELQ to Europe's Best Testing Conference. Let's converge at Antwerp Zoo, where testing and wildlife magic intertwine for an experience you'll cherish forever.
Remember, this is more than just a conference. It's a voyage into the extraordinary. So join ACCELQ at EuroSTAR 2023, right in heart of all action (Booth No.4) and be part of a testing revolution like no other.