Challenging the Status Quo
Simple and sustainable automation that is 3x faster compared to any other tool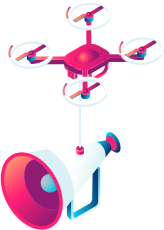 Explore Our Exciting Product Features
Focus on Business Process
A visual blueprint of your application which becomes the center of universe, driving entire Quality lifecycle.
API Testing
Ensure 360° quality coverage by seamlessly embedding critical server-side API validations along with your front-end testing.
Continuous Action Dashboard
Enable agile delivery with Continuous Action Dashboard which provides an integrated view of the entire SDLC status.
Automate the Automation
Automation in an integral aspect of test authoring in ACCELQ. Develop scripts in plain, natural English.
Change Bot
Manage test assets across multiple revisions of application-under-test with the Smart View Analyzer.
Integrated Data Designer
Capture the structure of test data based on business semantics. Test case generation is automated.