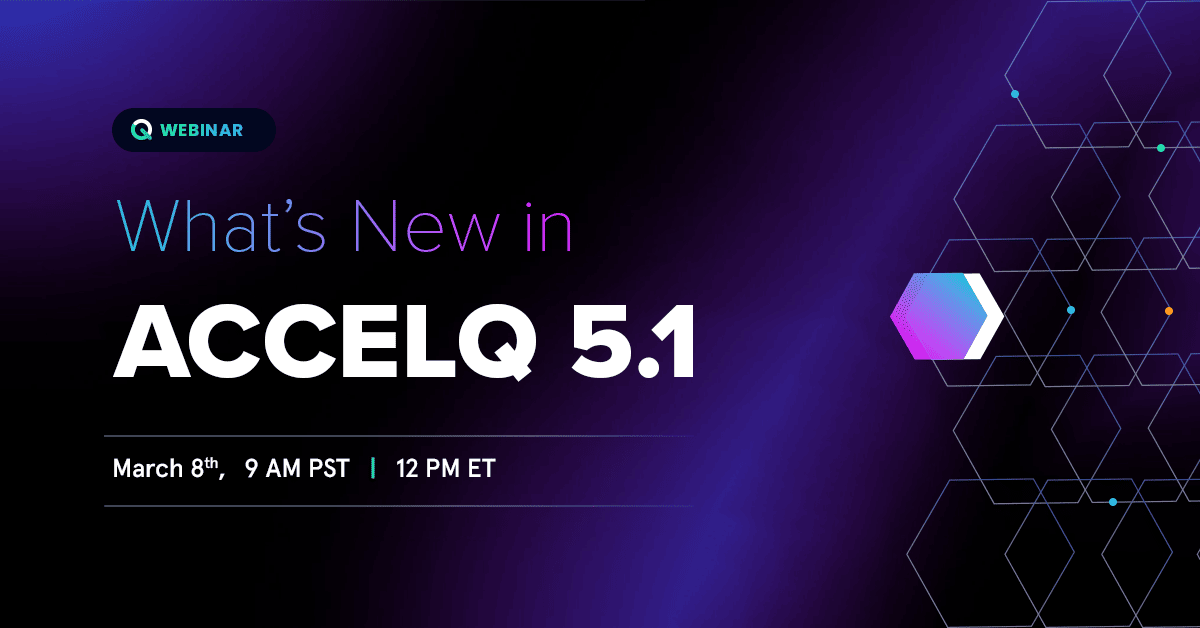 We couldn't be more excited to bring out our 5.1 Release this March!
So, what makes this Release special?
ACCELQ 5.1 brings significant new capabilities across Automate Web, API, and Mobile products. This Release delivers a great combination of next-gen and core functionality upgrades to improve efficiency and adoption needed for faster outcomes.
Here is a sneak peek from a comprehensive list of features being rolled out. Save your seat now for the webinar where we will cover in detail with a live demo and walkthrough.
New Look to the UI
Fresh look to the UI with new and improved Project info sidebar, enhanced Global search, Revamped Help Center, Entity tab and Grid filtering enhancements.
Test Development
Advanced ETL Test automation capabilities, streamlined action applicability, Element ID supports extensive operators for attribute values and more.
Test Reporting and Management
Added Exploratory View of Test Case Result, Revamped Element Reconciliation, improved Test logging performance etc.
Test Execution
Comprehensive command-line interface for ACCELQ Agent operations, improved re-run modal filters and self-healing gets contextual.
Integrations and More
Added integrations with LambdaTest , New OAuth2 support for mail clients, View Hover enhancement for complex CSS transformations, Lots more new commands additions and improvements.
Read more about What's New in 5.1 Release Here
About
Q Community aims to build and serve a community of Test Automation enthusiasts with a primary objective to find and nurture ways to transform test automation to be simpler, more reliable, and sustainable for the real world. Our vision is to drive community initiatives to make Automation easily accessible to the project teams and eliminate traditional skill-based silos within organizations. Keeping in line with the latest trends in the technology space, No-Code is explored as one of the primary means to achieve this objective.